Description
Are you looking for a safer and healthier option for your baby?
Cotton is the safest option in playmats with no PU, PVC, phthalates,  EVA, lead, mercury or any other nasties just a good old cotton cover. Cotton is not only breathable, great for our warmer climate and durable but also washable so your play mat can be popped into a gentle cycle in the washing machine for a good clean from all the baby dribble and less than desirable baby mess too.
Unlike the little round play mats, we have created for you a generous large size rectangular play mat that fits your baby and all their toys, with room for you and a few more too. Our play mats come in stylish neutral prints to fit effortlessly in your beautiful home, whether in the nursery or your living room. The prints are reversible so you mix it by just flipping over your baby play mat. The play mat prints complement our luxurious bedding collections so they can be effortlessly integrated into your nursery, without clashing colours and prints.
We have quilted our play mats to make them more durable (and of course stylish too) and filled them with breath eze bonded fibre so that the play mats are luxurious for your baby's comfort and support during baby playtime or tummy time.
Our babyhood Baby Play Mats are the safest option in play mats for your home or out and about on a picnic.
Pairs perfectly with our Baby Play Pen
Cotton
 so natural with no toxic nasties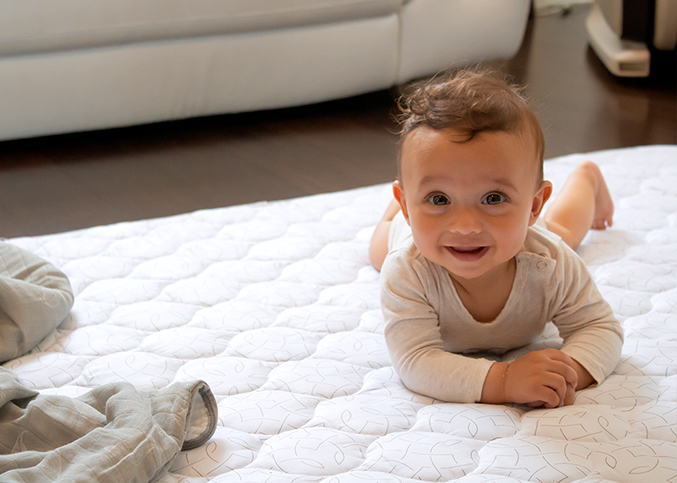 Breath Baby, Breath
with heat bonded breathe eze fibre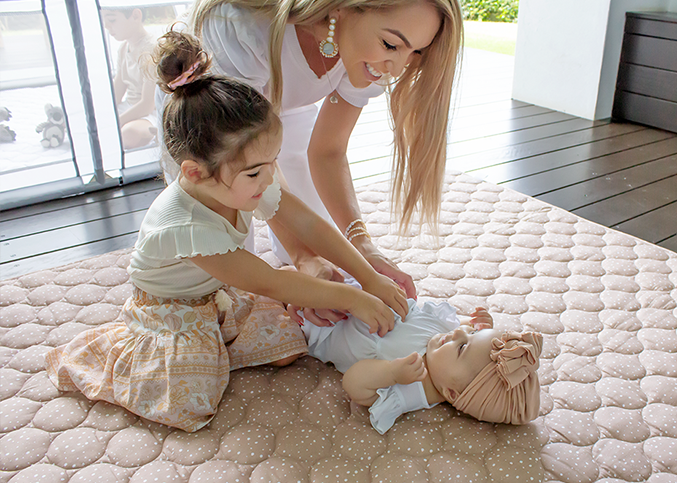 Hygienic for Your Baby
As it is fully machine washable
Large Size
a generous large size rectangular play mat that fits your baby and all their toys
180cmx 150cm
Reversible Design
with stylish neutral prints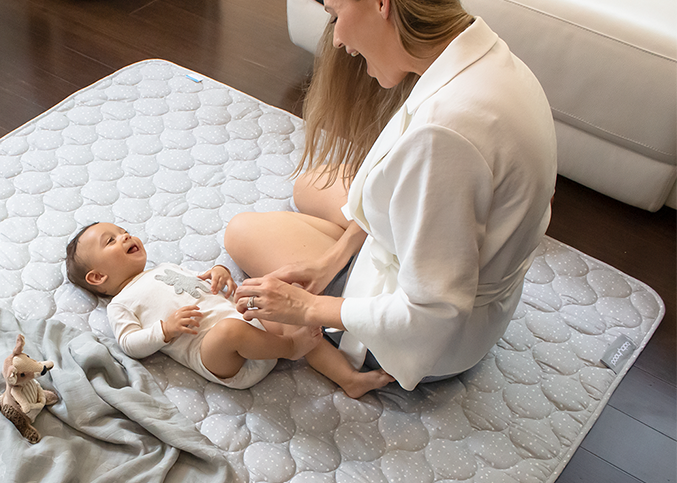 Features
• Large size so more freedom for your baby to play
• Luxurious heat bonded breathe eze inner fiber for your baby's comfort and support during baby playtime or tummy time.
• Made of cotton so there are no PU, PVC, phthalates,  EVA, lead, mercury, or any other nasties
• Safer with no strings or entrapment hazards
• Rectangular shape that fits in your living spaces
• Stylish reversible design
 • Quilted design so it is not only beautiful but durable
• Machine washable
Packaged Dimensions
To be confirmed
Product Dimensions
180cm long x 150cm wide
Age Range
0+
Standards Testing
Tested to EN 71-3
Fabric Type
Quilted Cotton Fabric
Inner Type
Heat Bonded Breathe Eze Fiber
Product Care
Delicate hand or gentle machine wash in cold water only.
Hot or warm water may shrink the cotton.
Wash separately so your colours don't run.
Line dry flat in shade only.
Do not tumble dry.
Do not dry clean.
For further information see your product packaging.
How to Use
Parental supervision is recommended at all times.
Recommended use on carpet or on a non-slip underlay so that the play mat does not slip.
Pairs perfectly with our Baby Play Pen  and fits within the play pen to reduce the risk of an entrapment hazard so it is safer for your baby and does not impede the functionality of the play pen so the suction cups can hold the play pen secure.
Product Warranty
1 year manufacturer's no-fault warranty. This excludes wear and tear and damage due to incorrect use.

Towelling Bath Support

We came too late to the party on this, using our slippery, stupid, panicked, in- competent hands for weeks before I bought this funny little tezzo towel ramp for sonny to lay on and own bath time like the boss he is. Made bath time a lot easier and a lot less scary…
Zoe Foster Blake – Zotheysay Blog

Breathe Eze Cosy Crib

He loved his babyhood bed when he first slept in it at 2 wks and still loves it to this day at 18 weeks.
Jackson_2016

Breathe Eze Cosy Crib

Seriously the best thing for baby. We use it every day. Have been recommending it to everyone.
koa.and.ohana

babyhood
Great customer service and amazing quality products. We are very happy and recommend other parents to go there. From Helen & Charles via Google Reviews
Helen Modong

Kaylula Cot
They make the most beautiful products – quality that will last! We absolutely adore our Kaylula cot, it has served us well for our daughter and is ready to be used again for our second baby! I cannot recommend highly enough! via Google Reviews
Rochelle Currie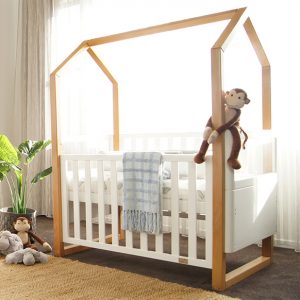 babyhood

babyhood products are funky and well made and their customer service is above and beyond. They went out of their way to help me when I had an issue with one of their products that I purchased from another supplier and were so friendly and helpful through it all. (via Google Reviews)
Kate Green

babyhood Cot
Love this cot and it is great quality with so many possibilities to grow with my daughter! Looks so perfect in her nursery 😍 via Google Reviews
Aimee Cuneo

babyhood
"Wow just wow. Went and picked up my order directly from babyhood the help was amazing – I will return and share with all my mummy friends". via Google Reviews
Jamie Fleekson

Co Sleeper Cradle
"Bought co sleeper cradle online – selected pick up in store and was ready to pick up and was ready the same day" via Google Reviews
Angus Fisher

Kaylula Collection
"Thank you for all your help guys very much appreciated. Love my Kaylula collection all your products are so unique" via Google Reviews
Jeffrey Tennyson

Riya Cot
"It's simple yet stylish design is perfect for his little space. This is the second babyhood cot I've used, and I can't find a fault." via Instagram
Mel Watts

Kaylula Sova Cot
"Fell in love as soon as I saw this cot because of its unique shape and design. My fav part is the clear panels which allow me to have a clear view of him from every angle lolol" via Instagram
@naomineo_

Kaylula Sova Cot
"Love this cot and your gorgeous bassinet @babyhood_australia" via Instagram
@littleturtlebaby

Kaylula Sova Cot
"The mattress was so important for me. It's breathable, washable and it's a thicker mattress with extra support and safety for Fox. It's also tested by Furntech – AFRDI to meet the highest Australian Standards so I'm confident I have the safest cot for my babe" via Instagram
@zoebmarshall

Kaylula Sova Cot
"Super trendy and something I usually wouldn't have the confidence to go for. It starts as a circle bassinet and grows as the baby grows into an oval cot (Yes Fox is already in this size – he is a big boy!) and then it turns into a toddler bed and eventually a little table and chairs set" via Instagram
@zoebmarshall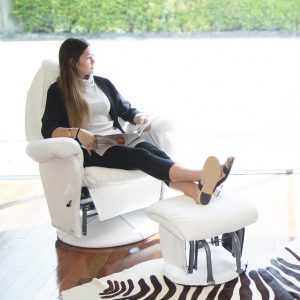 Vogue Feeding Glider Chair
"It's white, plush, so comfortable it has lumbar support – it's unbelievable how sore your back and neck gets from nursing. It's stain and scratch resistant so it stays pretty too. It also reclines and the biggest thing it doesn't rock, it glides, making it a perfect soothing chair when Fox is unsettled." via Instagram
@zoebmarshall

Ava Forever High Chair
"Still loving our high chair from @babyhood_australia" via Instagram
@yvettevargas

Riya Cot
"Went for the Riya because of the adjustable mattress and because it transitions to a toddler bed" via Instagram
@miss.goodytwoshoes

Organic Nursing Pillow
"Elle loves sitting up and watching us in my breastfeeding pillow from @babyhood_australia" via Instagram
@mikhailla

Kaylula Sova Cot
"She loves hanging out in her cot @babyhood_australia chatting away and giggling to her mobile." via Instagram
@danibonnor
Note
All products are covered by a specific warranty. Please refer to your product instruction manual for details of the warranty relating to the product. Alternatively please contact us at sales@babyhood.com.au for more information.
We do not recommend this product as a sleep surface for your baby. Do not leave your baby unattended.