Description
Bath time should be one of the most enjoyable times with your baby, but for many parents, it is daunting as babies are small and slippery.
The solution is simple and effective – the babyhood Bath Support. It will give you the confidence to bath your baby safely and bring back the fun, for you and bub. The reason why is that it offers a support base for your baby, so you have one hand free to actually bath your baby. So, no bending over the bath hurting your back and no more slippery fingers trying to hold and wash your baby at the same time – which can be so stressful, especially with younger and preemie babies. You can now be hands-free to wash and play with your baby, as the babyhood Toweling Bath Support cradles your baby's head, neck and back.
The bath support is unlike other bath aids as it is designed ergonomically to support your baby's body more comfortably and reduces the risk of them slipping off the edge.  It has no pillow so it is safer and more versatile so you can turn your baby onto their tummy for a luxurious bath experience. See our blog to see how. It is great for newborn and preemie babies as it is soft with a plush toweling cover and shapes to your baby's body without hurting their delicate inner thigh areas, as many plastic bath aids do.
The cover of the bath support comes off for washing and can be gently machine washed. It is available in a wide range of colours. It is also available in mesh.
For the safety of your baby, please do not leave your baby unattended at any time in the bath.
Enjoy bubbles of fun at bath time!
Confidence in Spades
as it will take the stress out of bath time.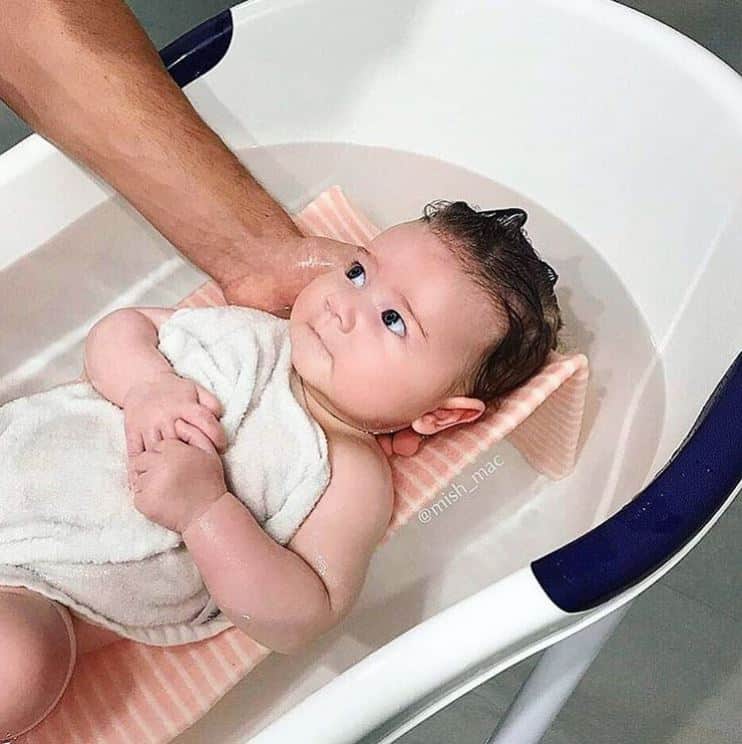 Safer
for your baby, no slippery little baby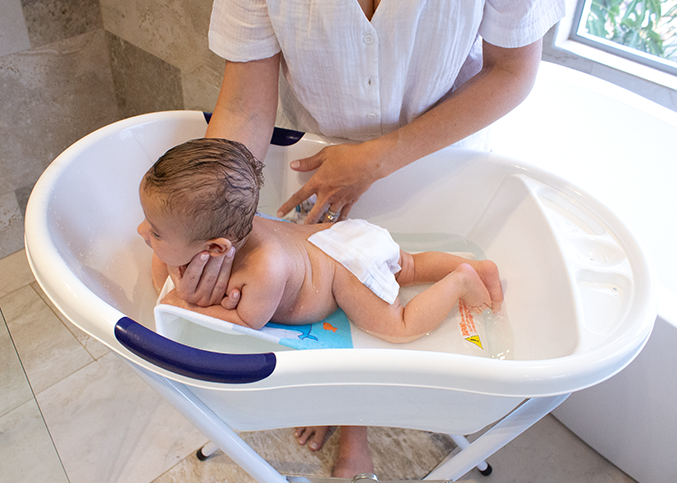 Perfect Angles
in all the right places, so it properly supports your infant from sliding
Convenient
as it gives you back a hand to wash your baby
Features
• Better for your back as no more heavy bending
• Safer for your baby as no more slippery babies to hold in your hands
• Be hands-free to wash baby
• More support for your baby's back, head and neck
Packaged Dimensions
W20cm x L19cm x H9cm
Product Dimensions
46cm long x 26cm wide
Age Range
From birth +
Fabric Type
Micro Toweling Fabric
Frame Type
Steel Frame
Safety Standard
Tested to Consumer Goods (Baby Bath Aids) Safety Standard 2017
Product Care
Gentle machine wash the cover or hand wash in warm water after baby's bath and hang in shade on a line to dry.
The frame should be wiped dry and clean after use.
Do not clean with any detergents.
Do not dry clean, wash in hot water or insert in the dryer.
How to Use
Insert the bath support in a bath once the water is filled. Check to ensure the water is not overfilled. Lay your baby using both hand on the bath support and ensure their head is well over the water level. Do not leave your baby unattended at any time and we remind you to ensure one hand and both eyes are on your baby at any given time, as accidents can happen very quickly. See our blog here for tips on how to bath your baby.
Product Warranty
6-month manufacturer's no-fault warranty. This excludes wear and tear and damage due to incorrect use.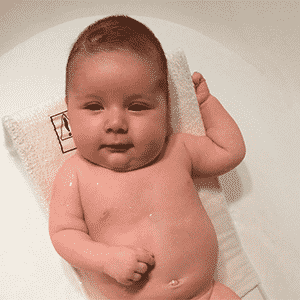 Toweling Bath Support

We came too late to the party on this, using our slippery, stupid, panicked, in- competent hands for weeks before I bought this funny little tezzo towel ramp for sonny to lay on and own bath time like the boss he is. Made bath time a lot easier and a lot less scary… – Via Zotheysay Blog
Zoe Foster Blake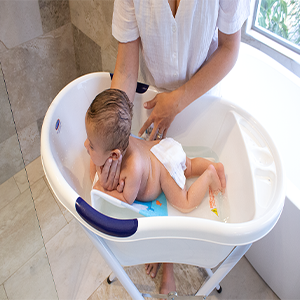 Toweling Bath Support

This is one of the best inventions. We use it every time my daughter has a bath. She loves it!! 💕
@lainiegood1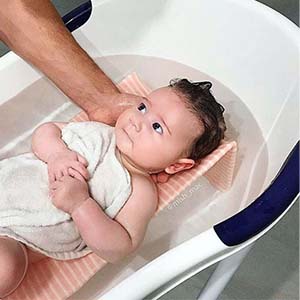 Toweling Bath Support

We bought the Babyhood Toweling Bath Support, as our daughter was growing out of her baby bath tub but cannot sit up on her own yet. We've tried just holding her in the big tub but both my husband and I have bad backs (and daughters getting heavier), so that was not a good option. We also found the plastic bath seat no good either (was harder to clean baby's back and bum area and daughter cried every time she was in it).
So we were very relieved to find that our daughter liked the Babyhood Toweling Bath Support. She is very relaxed in it and now enjoys her bath time. The design of the seat is good in that her legs are free to move in any direction. We still have one hand under her head (more to guide and prevent her moving too much) but her weight is on the bath support which means we don't have to lift her constantly (great for our backs). I definitely recommend it 🙂 Very useful. Good price, baby enjoys it as fabric comfortable to seat on, baby's legs free to move in any direction. – Via Product Review
(image not provided so babyhood image inserted)
Tulipgirl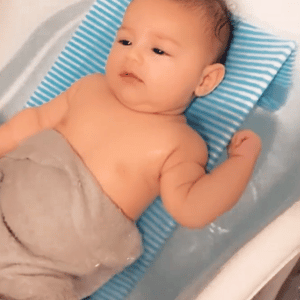 Ergo Bath Grouper + Toweling Bath Support

Our @babyhood_australia Ergo Grouper Bath & Stand + towelling bath support makes bath time so much easier! Not only does it save our backs but having the bath support helps when there is only one of us washing Georgii! It's also super comfortable and relaxing for our little prince 🥰 – Via Instagram
@sapphiroula_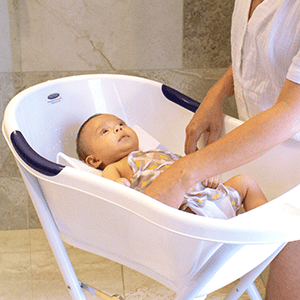 Toweling Bath Support

I bought one of these when we were expecting our first the baby, as I liked the idea of being able to lay baby on it and enabling me to be hands free to wash baby without being uncoordinated trying to hold a squirmy, wet, slippery baby.
This turned out to be my most favourite baby item and the best value for money. It only cost around $20 but it was such a great buy. Fits in most baby baths and normal tubs and doesn't slip around in the bath.
I recommend this to all new parents, you really appreciate it when your using it. It made bathing a new baby so much easier and you can use for quite a few months until they obviously get too big for it. I used it for both my children so i well and truly got my $20 worth out of it. 😍 – Via Product Reviews
Shanemmy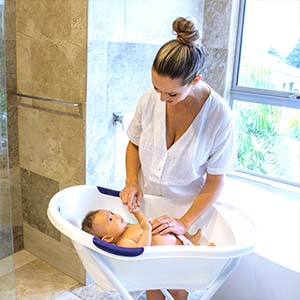 Toweling Bath Support
My mother owned a similar toweling bath support almost 40 years ago which was used and handed down through the family over the next 20 years. When it came around to my turn for children. These were recommended to me as an essential item. Newborn babies are slippery and this gave me the confidence to bath my child without fear. I've found the full molded plastic bath supports do not stand up to the superior quality of the Babyhood Toweling Support and cannot be used for newborns. Tough, Inexpensive, reliable, Non slip, easy to store. -Via Product Review
catwoman1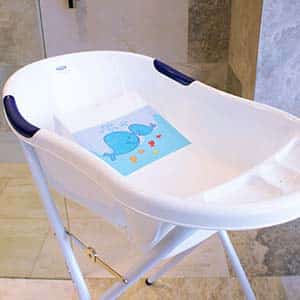 Toweling Bath Support
This should be the first item on your checklist for your baby… Can be used inside a baby bath, a laundry sink, a bathtub or even placed in the shower. My baby lives it and I would not travel without it! Excellent size, lightweight, Terry toweling, can't go wrong! I used it from when he was a newborn and still use it (now 6months), ESP in the shower. Easy to clean and to remove. Excellent product. -Via Product Review.
(image not provided so babyhood image inserted)
AGD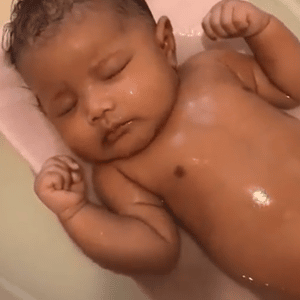 Ergo Grouper Bath & Stand

This bath tub has definitely made my life easier! It comes with a stand which is very stable and sturdy so it makes me feel safe bathing my newborn baby 👶🏼 I also like that it's spacious and I can add the newborn bath support for some comfort for baby and me 👩‍👧 – Via Instagram
@narisasoraya
Note
All products are covered by a specific warranty. Please refer to your product instruction manual for details of the warranty relating to the product. Alternatively please contact us at sales@babyhood.com.au for more information.
We do not recommend this product as a sleep surface for your baby. Do not leave your baby unattended.