Did you know that your baby will spend up to 80% of their first year sleeping?
Our mattress range is designed to provide your baby with optimum orthopaedic support for their delicate body and great breathability through the breathable fabrics keeping your baby comfortable and safe, in a firmer mattress – which is tested by leading experts to be always safer for your baby, than a soft mattress that babies can suffocate in and may result in sudden infant death syndrome. So choosing a good quality safe mattress is important.
We go the extra mile to create a safer sleeping space for your baby If you need more information about mattresses and how to choose the right mattress for your baby, read our blog Is your baby mattress safe? Click here.
Explore Our Mattress Range
• Breathe eze bonded fibre pad
• Cotton blend fabric
• Allergy & dust mite resistant so good for babies prone to allergies
• Removable cover for washing
• Complies with Australian Standard AS/NZS 8811-1:2013 – Sleep Surface Test For Firmness
• Available in cot, cradle, bassinet and custom made to suit most cot sizes for baby sleep spaces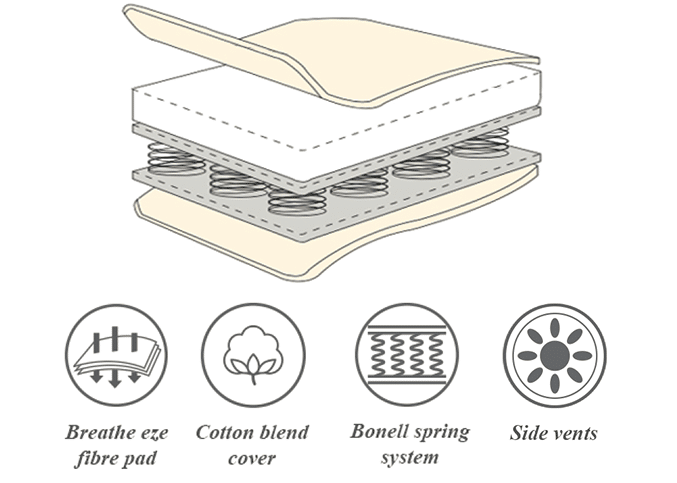 • Breathe eze bonded fibre pad
• 200 grams deluxe quilted cover
• Innerspring mattress with corner guards to reduce entrapment
• Bonnell springs with tempered steel frame
• Allergy & dust mite resistant
• Breathing side vents for airflow boost
• Quilted both sides
• Tested to Australian Standard AS/NZS 8811-1:2013 – Sleep Surface Test For Firmness
• Available in 1295mm x 690mm x 100mm and 1200mm x 600mm x 100mm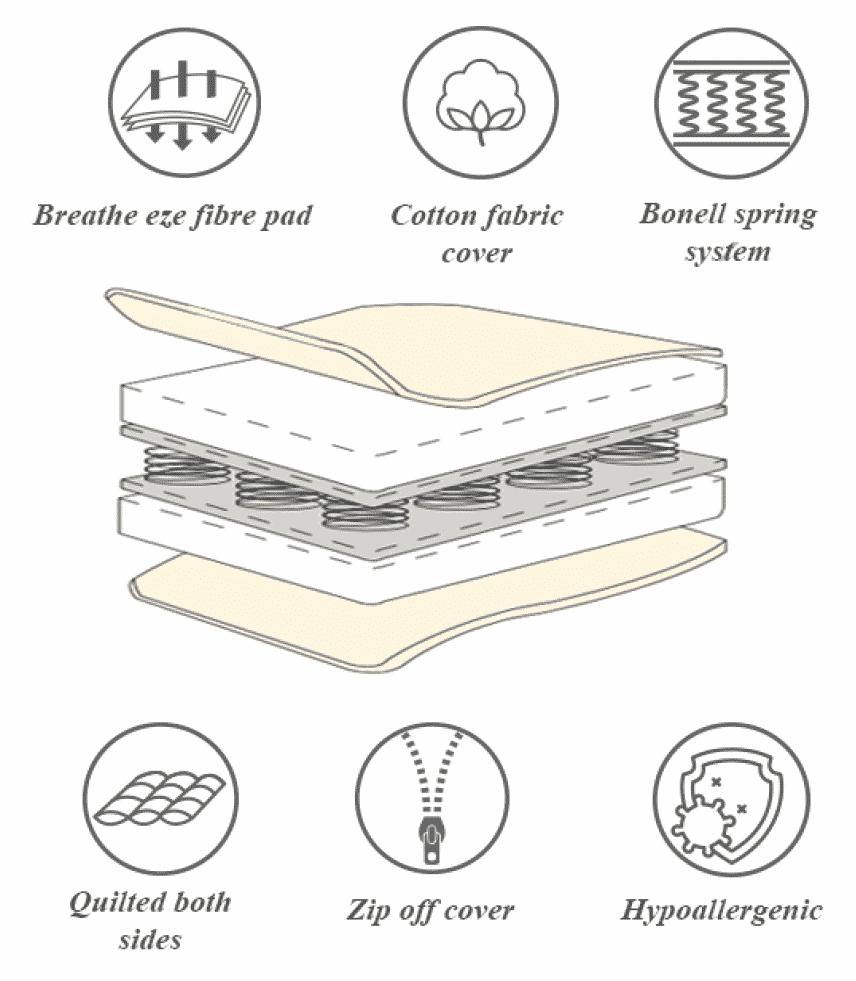 • Breathe eze bonded fibre pad
• 200 grams deluxe quilted cover
• 100% Cotton fabric
• Innerspring mattress with corner guards to reduce entrapment
• Bonnell springs with tempered steel frame
• Allergy & dust mite resistant so great for babies prone to allergies
• Easy zip off cover for washing
• Quilted both sides so very luxurious
• Tested to Australian Standard AS/NZS 8811-1:2013 – Sleep Surface Test For Firmness
• Available in 1295mm x 690mm x 100mm and 1310mm x 750mm x 100mm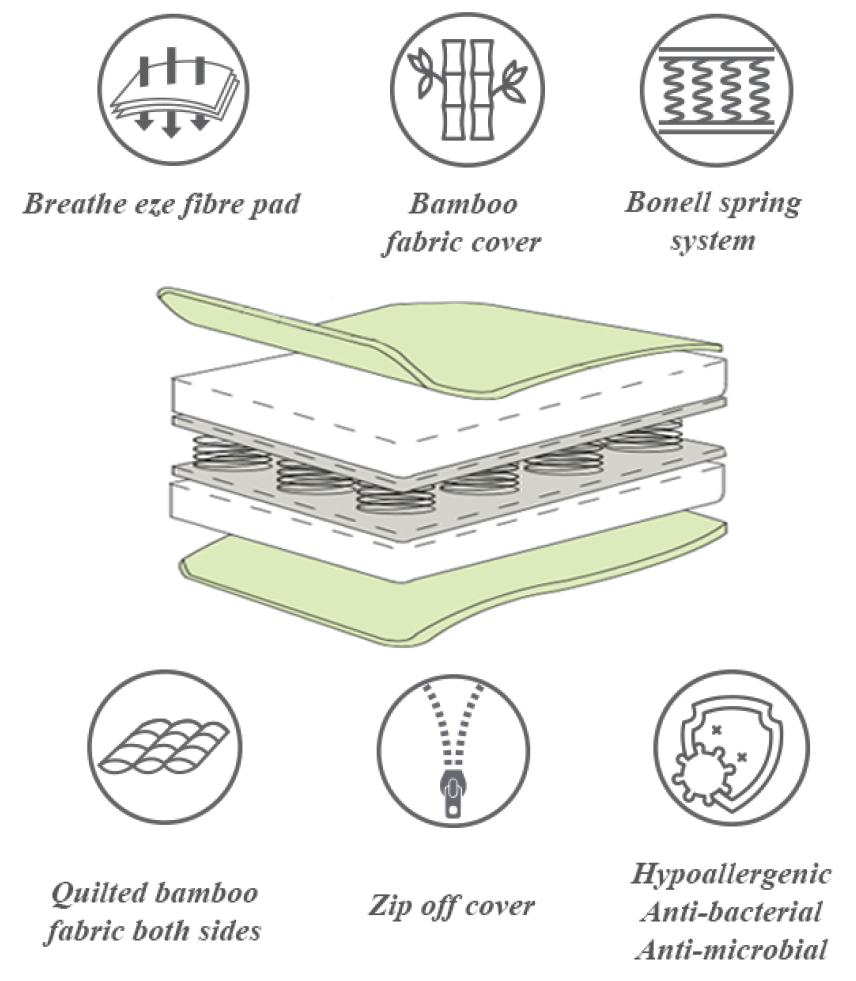 • Breathe eze bonded fibre pad
• Innerspring mattress with corner guards to reduce entrapment
• Quilted bamboo fabric zip off cover
• Bamboo fabric is thermo regulating and cool in summer and warm in winter and gentle on sensitive skin
• Bonnell springs with tempered steel frame
• Hypoallergenic, anti-bacterial and anti-microbial for developing little lungs
• Bamboo is more absorbent than cotton for a dry feel even after an accident as it wicks moisture away from baby
• Machine washable cover for those little accidents
• Tested to Australian Standard AS/NZS 8811-1:2013 – Sleep Surface Test For Firmness
• Available in 1295 x 690mm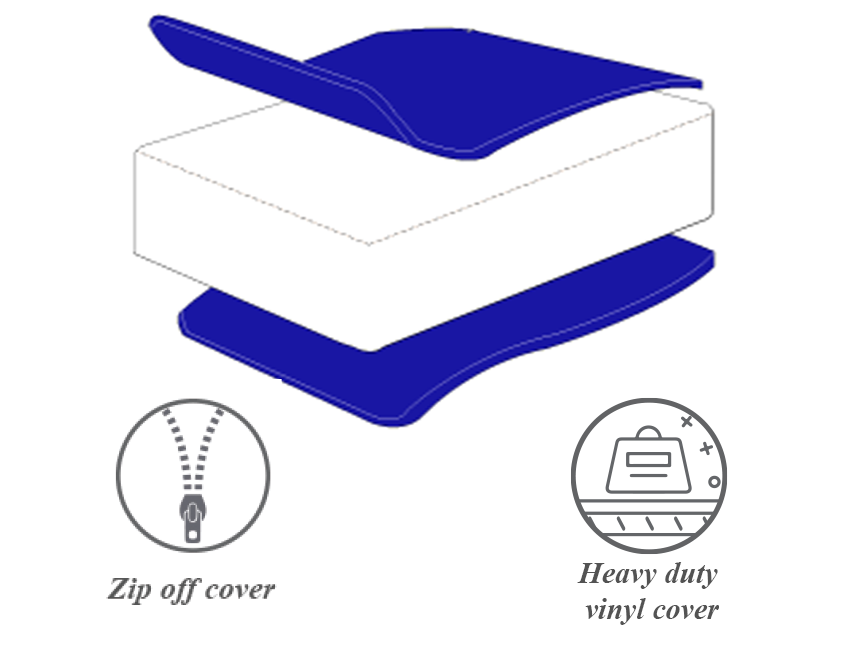 • Heavy duty vinyl cover
• Wipeable
• Zip off cover
• Ideal for hospitality, early learning centres, family day care and holiday homes
• Complies with to Australian Standard AS/NZS 8811-1:2013 – Sleep Surface Test For Firmness
• Available in 1295mm x 695mm, 1200mm x 600mm and 1000mm x 600mm