Description
Vogue Feeding Glider Chair
Why rock in a conventional rocking chair when you and your baby can glide effortless with a gliding motion that is more natural and comforting for you and baby, rather than the upset rocking feeling that you get from a rocking seat, that will leave you dizzy and your bub queezy.
Our Feeding Glider Chairs are designed to offer optimal support to your body whilst feeding baby every 2-4 hours each day and to recline so you can sit back and gently glide you and your baby into dreamland – so you are not pacing the floors when your baby needs soothing.
Our Feeding Glider Chairs also offer an alternative to the bulky large recliners that are hard to fit in a nursery and even harder to climb out of, after each feed. You don't need an extra hand with our gliders as they effortlessly lift you back to a full seating position, so you can easily step off, with your baby in your arms. This especially important for mums after birth, as often our bodies need a little help to sit up out of a chair.
With a smooth gliding motion and a lockable recline, the seat is adjustable to ensure you are always in a comfortable position for your body's needs – so no heavy jerking as you recline, like you get from the cheap imitations.
The quality padding built into our feeding chairs offer you long term comfort, so you don't feel the metal frame in your back or bottom, like you do with many other gliding chairs.
The matching gliding ottoman (which is included) also enhances the gentle gliding motion, so you really feel like you are floating on air.
The Frame Drape provides the added stylish look covering the underside of the frame, so your space is always stylish.
Each of our glider chairs are unique in their styling but also in their fit for your body.
Try our quality brand of gliders and ottomans to find the one that best suits your body shape for the perfect feeding chair for you – you will not be disappointed when you find the perfect fit for your body shape and budget.
The Vogue Feeding Glider Chair & Ottoman is our most ergonomically designed and comfortable chair in our range. It offers extra lumbar support for parents who suffer from lower back pain or those who have a hollow in their lower back (ie. a little bit of a booty). It has a twin layer cushion on the backrest to support your shoulders and neck – so it feels like it hugs your body. It also has wider arm rests so you can rest your elbows comfortably, taking the strain from your shoulders. The glider and ottoman are thoughtfully designed to ensure that the bases are covered, so it will protect your hard floors from scratches and will look more stylish. It is modern and elegant so it a statement piece for your nursery.
Now there is no need to compromise on your comfort with the babyhood range of Feeding Glider Chairs & Ottomans.
Our Most Supportive Chair For You
Let the pressures of parenting slip away as you glide effortlessly in your luxurious chair. The Vogue supports your lower back with comprehensive lumbar support. The high back rest ensures that your arms, neck and shoulders are fully supported with extra contoured cushioning.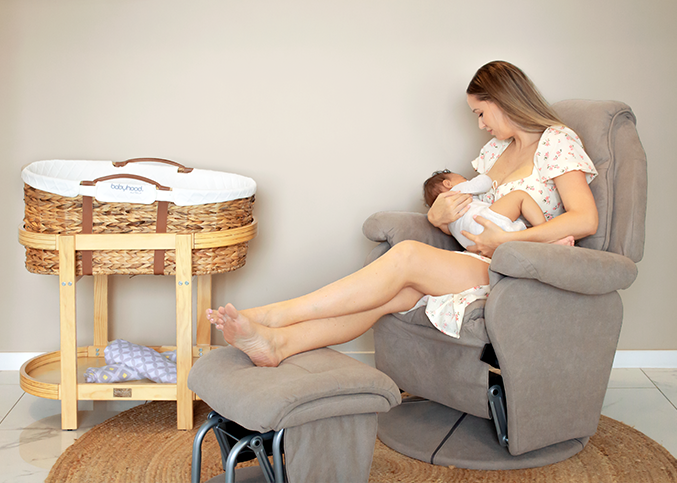 Perfect for Breastfeeding
A large padded seat and wide arm support help you to position a babyhood Nursing Pillow perfectly on your lap so your baby is well supported for latching easily to your nipple, during breastfeeding.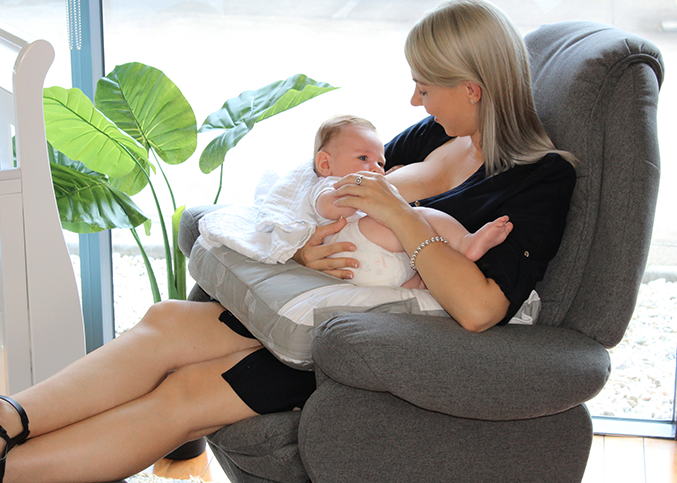 Lift Your Feet and Take a Load Off
A smooth gliding ottoman is perfect for resting your tired legs and then gently push the back rest to activate the recline feature, so you can slip into a dreamland for an afternoon nap.
Glide Effortlessly
A more gentle movement to rocking, this gliding motion keeps you at equilibrium for longer.
360° Swivel
So it not only gives you the most amazing gliding experience but with its 360-degree swivel you will have full access to your surroundings, making it especially helpful if you need to have an eye on your toddler.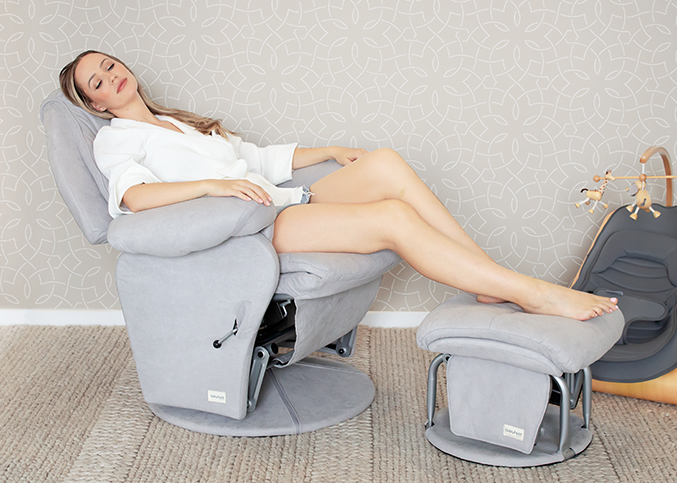 Effortless Recline & Step Off
With a smooth lockable recline, the seat is fully adjustable to ensure you are always in a comfortable position for your body's needs. Best of all, you don't need an extra hand as it effortlessly lifts you back to a full seating position, so you can easily step off, with your baby in your arms.
Extra Wide Arm Rests
 Providing you with the widest arm rests we have to offer, the Vogue is ideal for parents who require significant arm support.
Twin Cushion Top
Optimal support for upper back and shoulders. This glider chair is ideal for parents who require more ergonomic support for this region.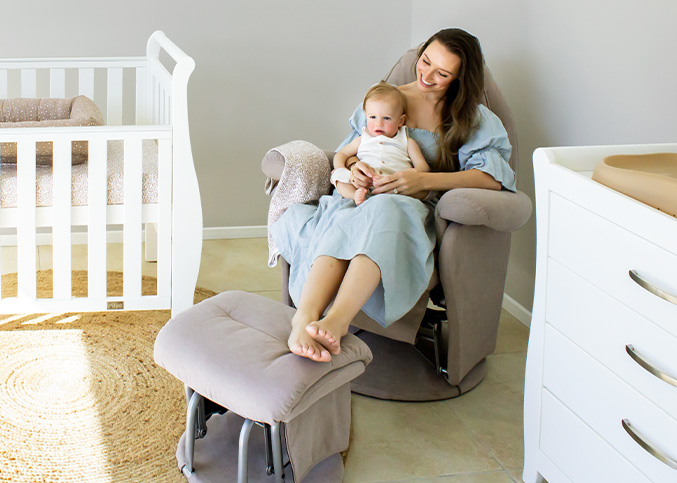 Features
• The most ergonomically supportive feeding chair in our range
• Extra lumbar support for your lower back
• Twin cushion top technology for supporting your shoulders and neck
• Large extra padded backrest and neck rest
• Large padded seat
• Raised extra-large padded arms
• Pillowtop technology on both seat and ottoman pad
• Smooth glide
• Effortless recline
• Lockable recline
• Hands-free lift for easy exit
• 360-degree swivel
• Frame drape
• Easy clean wipe down fabric
• Scratch and stain-resistant fabric
• Base covers on glider and ottoman to protect the timber and tiled floors
• Matching gliding ottoman
• Available in White Leatherette, Ice Grey Leatherette, Steel Grey Fabric, Sandstone Fabric & Charcoal Fabric.
To enhance your nursing or feeding experience with your baby, the babyhood Nursing Pillow with Toybar is designed for our glider chairs to ensure that feeding time with your baby is both pleasurable and comfortable for you and your baby, each and every time.
Be sure to add one to your purchase as they will enhance your feeding experience, making breastfeeding easier, as you and your baby are better supported.
Our Vogue Glider Feeding Chairs are tested by independent testing facilities recognised internationally

Our Vogue Feeding Glider Chair & Ottoman are independently tested to:
• AS/NZS 4688.4:2000 Furniture – Fixed height chairs: Determination of stability – Chairs with tilting or reclining mechanisms when fully reclined, and rocking chairs
• AS/NZS 4688.3:2000 Furniture ― Fixed height chairs: Determination of stability ― Upright chairs
The fabric is also independently tested to ISO 14184-1:2011 – Formaldehyde Content by STC Shanghai Company
Assembled Dimension
Chair – height – 104cm, width – 84cm, depth – 80cm
Ottoman – height – 39cm, width – 47cm, depth – 48cm
Carton 1
W76 x L67 x H62cm
Fabric Type
Leatherette available in White & Ice Grey
DuPont Teflon Fabric available in Charcoal Grey, Steel Grey & Sandstone
Weight Limit
Max Total Limit 95kg – including baby and any accessories
Assembly Instructions
Please contact us – Click Here
Important Information
You product is packaged firmly to reduce the risk of freight damage. The cushions on you glider may compress in packaging. This is normal the cushion will revert to the fully form shape as you begin to use your chair. If you would like to accelerate the process gently warm the cushion with a hair dryer to reform the shape.

Please read the instruction manual to understand the correct use and maintenance of your feeding chair including that we do not recommend you sit on the arms or the ottoman.

Product Care & Warranty
Do not remove the cover.

Do not unzip the cushion padding

All spills must be promptly cleaned.

Spot clean with mild upholstery shampoo.

Do not saturate with liquid.

Test shampoo in an inconspicuous area, before use to avoid colour run or damage.

Do not use coloured cloth or anything abrasive.

Do not dry clean.

For further information see your product packaging.

Product Warranty
Click Here

Vogue Feeding Glider Chair

And that magic chair offers the best comfort levels whilst feeding her. I enjoyed more comfort in my lower back area as it is Ergonomically supported further with the babyhood Vogue Glider Chair. The matching gliding ottoman also enhances the gentle gliding motion. This means that me and Hannah can enjoy greater bliss!
_heyfafa_

Vogue Feeding Glider Chair

It feels like heaven, as soon as you seat down you can feel really supported through your back which is really important for parents.
Shavorjn

Vogue Feeding Glider Chair

Yesterday we got this chair and use it for the first time. Now typically would take me 10-15min or more going up and down the house to get Theo to go to sleep. Now I was sitting there for 2 minutes and he was out. Thank you babyhood for giving me so much time back.
Denham_ravi

Vogue Feeding Glider Chair

If there's one thing I would suggest to all new moms out there to get, is this Vogue Glider chair from babyhood. Remember.. you have to feed your baby at least 10-12 times a day. So, you'll need this super comfortable rocking chair in your room. Thank me later! 😋⁠
farahnabilahofficial

Vogue Feeding Glider Chair
We were very lucky to win this chair from @babyhood_australia 👌🏻 we wished we got this earlier when we had Maddi 😂
our.photo.diary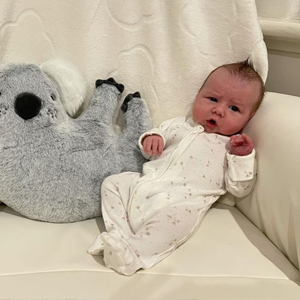 Vogue Feeding Glider Chair

Comfiest chair! I even used mine during pregnancy so relaxing! Love reading books to Vinnie while rocking, he always falls asleep 💤
lovelittlevinnie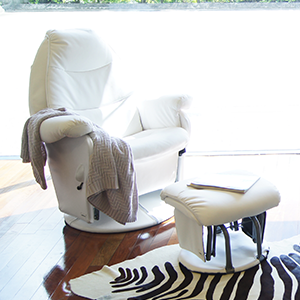 Vogue Feeding Glider Chair

Excellent chair! So comfortable and easy to put together, just perfect. And much more comfortable than any I could find in baby stores 😍 via Temple & Webster
Kerrie McKellar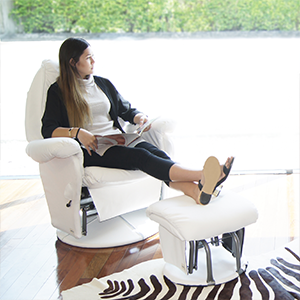 Vogue Feeding Glider Chair

Mi wife said this is the best thing of all time. I think this is a solid product., it's made well and it doesn't make any noise while in use. It is easy enough to fall asleep in, but it would take a bit of a room, you would need at least 2sqm of space to use it fully. My wife is 5ft10 and has no problem with the size of it, me on the other hand bearing 6ft2 and 100ish kg, the chair is on the small side and the headrest is too short for me unless the chair is fully reclined, but the chair isn't for me really. Via Temple & Webster
James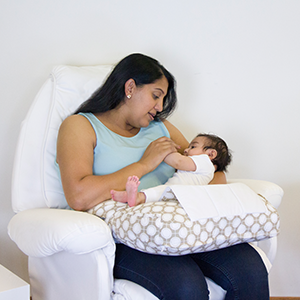 Vogue Feeding Glider Chair

I love my nursing chair! This product is truly a lifesaver after having an emergency caesarean. I can't just sit in any chair and be comfortable especially when feeding or pumping but in this chair, I'm always comfortable. But this glider has made my life so much easier. It is so versatile. I can get comfortable in no time and swivel around in either direction to grab something I need so bub stays latched.  Via Temple & Webster
A.zanuso

Vogue Feeding Glider Chair
"It's white, plush, so comfortable it has lumbar support – it's unbelievable how sore your back and neck gets from nursing. It's stain and scratch resistant so it stays pretty too. It also reclines and the biggest thing it doesn't rock, it glides, making it a perfect soothing chair when Fox is unsettled." via Instagram
@zoebmarshall
Note
All products are covered by a specific warranty. Please refer to your product instruction manual for details of the warranty relating to the product. Alternatively please contact us at sales@babyhood.com.au for more information.