Description
Kaylula Ava Forever High Chair
A stylish modern scandi inspired chair that is strong and made from European beechwood, so it grows and grows – up to 45 kgs.
It is the perfect chair for your baby to learn to eat solids. They can join your family directly at the dinner table or snack solo whilst you are doing the washing up. As they grow they can create a masterpiece from their study desk and continue to use the chair throughout your home as they grow into teenagerhood.
The Ava High Chair is fully adjustable, with an easily interchangeable seat and footplates as your baby's bottom grows and multiple height adjustments as their little legs grow, so they are always ergonomically seated, even for long study sessions.
Especially for you, we have included an easily adjustable and removable push-button timber tray with 2 position adjustability and an easy click on and off washable plastic food tray.
A discreet safety bar, 5 point harness and specially designed stability legs (front and back) will ensure they are as safe as can be, reducing a tipping hazard. The safety bar is removable with an allen key when your bub starts to grow and no longer needs the extra support around their tummy.
For your baby's comfort, the Ava Highchair includes a soft padded cushion seat and back inserts, which attaches conveniently to the highchair and detaches for you for an easy delicate cold wash – after those messy pasta nights.
The solid timber highchair is super easy to wipe clean with a damp cloth, with no gaps for food to accumulate.
Stronger and Safer for Your Child
Using European beechwood timber, it is designed for extra stability and security for your curious little toddler.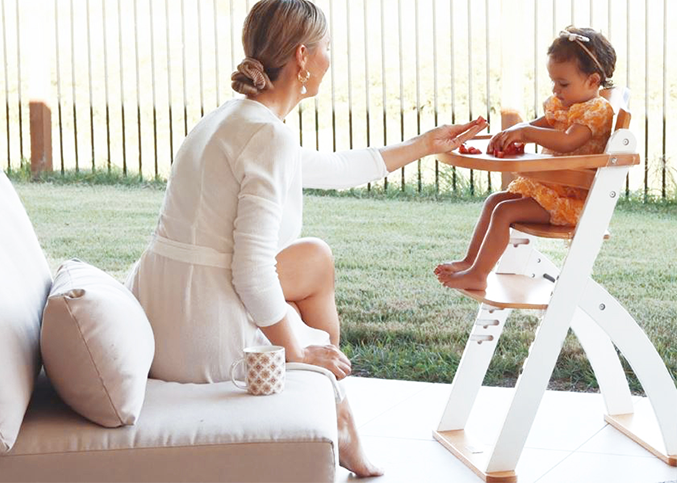 Especially Designed Stability Legs
With wide based profiles in front and back to ensure maximum balance and reduced tipping hazard, ensuring your little one is as safe as they can be.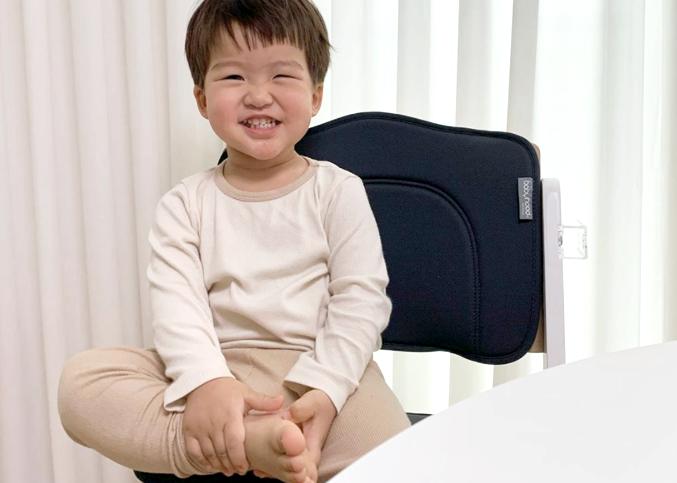 Safety Removable Bar
 A timber support barrier, as additional protection for your baby. This can be used when they first start using the high chair. It can also be removed as they grow and no longer need the extra protection.
5-Point Harness
That is adjustable to properly fit your child – remember they won't protect your child if they don't fit. It provides the peace of mind that they are not going anywhere.
Grows with Your Child
From when they sit upright until they are teenagers studying hard (or so they say!)

Seats Your Child at the Table with Your Family
Adjustable heights and an easily removable tray makes dinner time together so much more fun as your child joins your family at the table.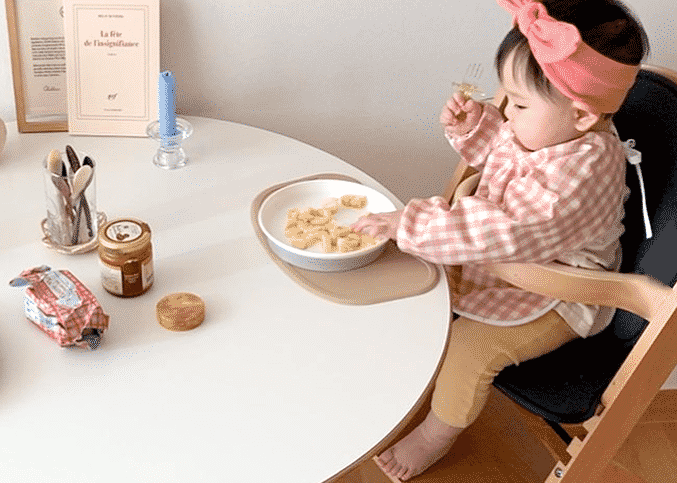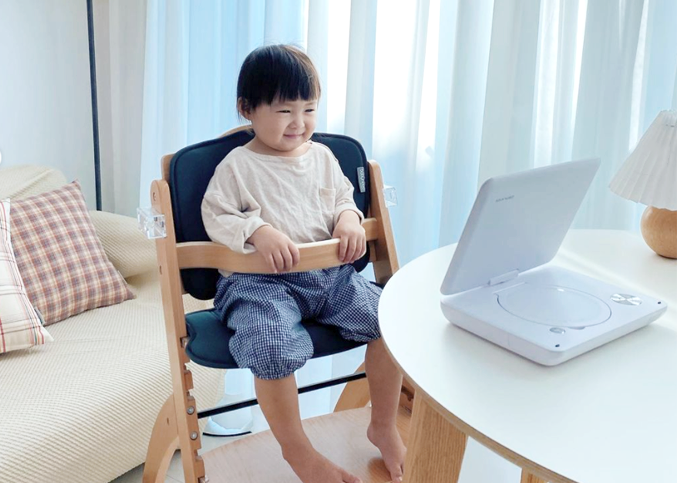 Interchangeable Seat & Footplates
You can easily interchange them as your baby's bottom grows and multiple height adjustments as their little legs grow, so they are always ergonomically seated, even for long study sessions.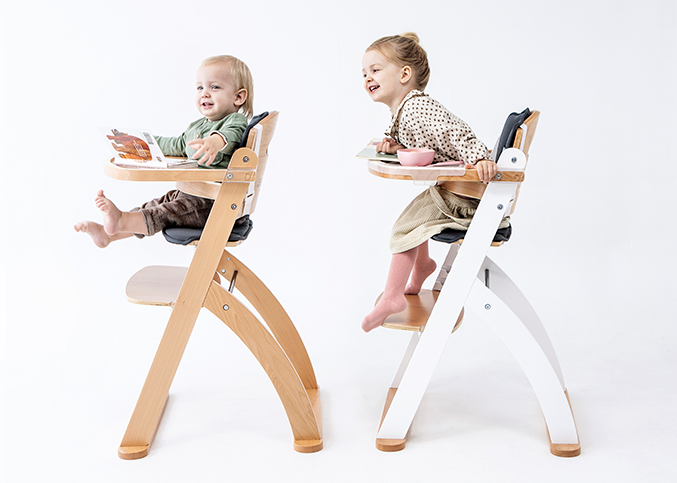 Convenient for Use
No need for a handyman or tools as the entire chair is fully adjustable, in seconds with push buttons.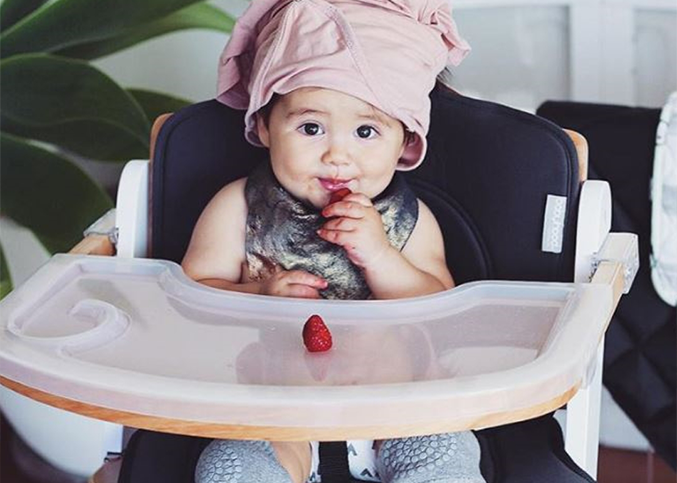 Everything Included (except the baby!)
Includes a bonus back and seat padded cushion, 5-point harness and washable tray.
Easy to Clean
Its soft padded cushion seat and back inserts are easily removable so they can be washed in a delicate cold wash. And its BPA-free washable plastic food tray can be placed in the dishwasher when needed.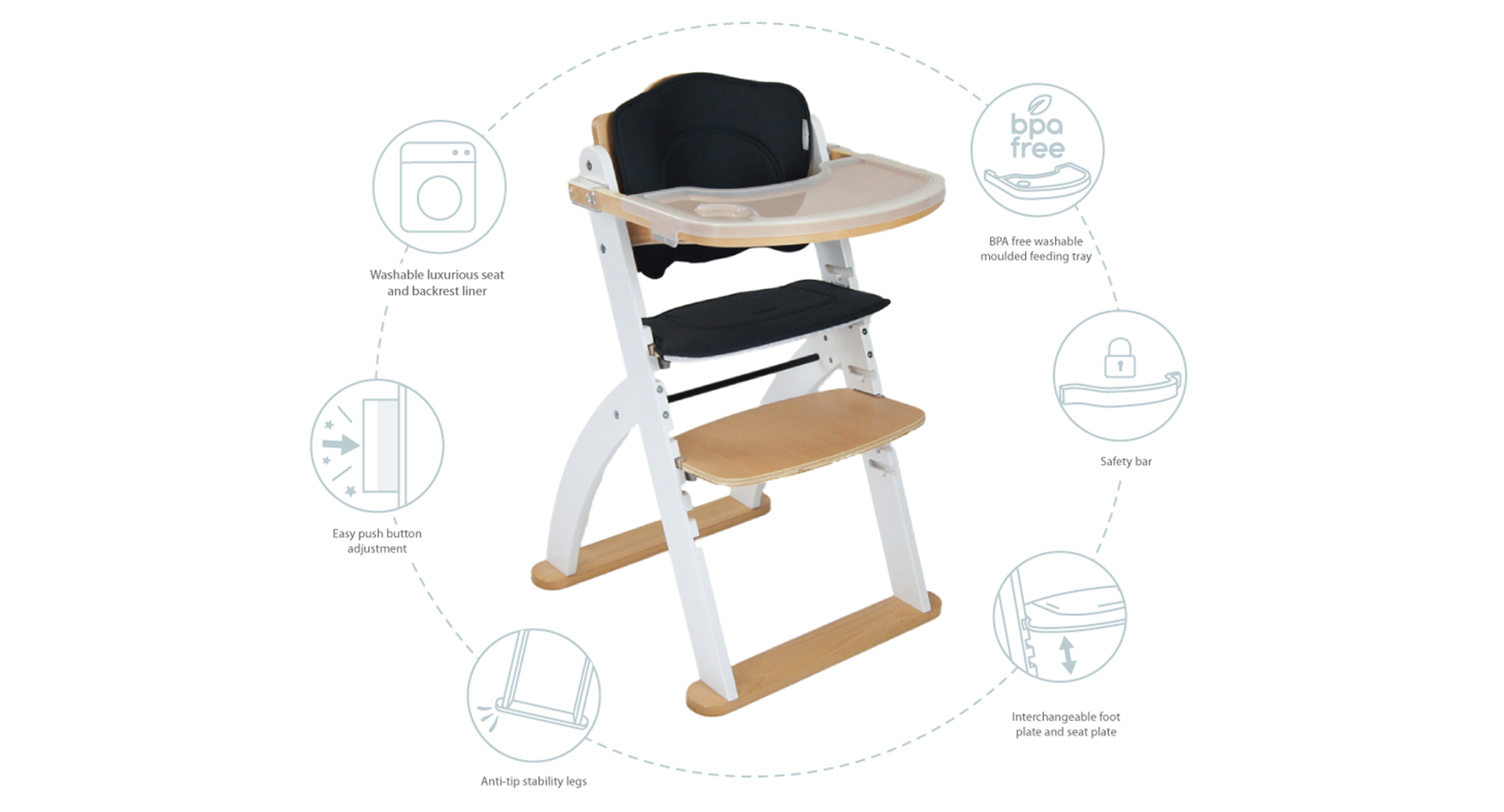 Features
• Grows with your child up to 45kg
• Safer for your baby with multiple safety features like anti-tip stability legs which prevent the high chair from falling over easily
• Early use support bar around your baby's tummy to give them additional support until they grow a little more
• Easily adjustable seat and foot plates for optimal ergonomics so your child is always comfortable
• No allen key or screw driver required or re-assembly to adjust the seat or foot plates – just a simple push button
• Interchangeable foot plate and seat plate to accommodate a growing baby's bottom
• Push button removable tray so your baby can join you at the dinner table, at any time
• Optimal height for the standard dinner table (76cm) so you can remove the tray and your child can join the family for meal times
• Taller than most timber high chairs for your convenience
• Strong and sturdy as it is made from European beechwood
• Multi-position timber tray so as your child's tummy grows, the tray can be adjusted further outwards
• Washable BPA free food tray
• Easy clean with a damp cloth and delicate cold machine washable cushion inserts
• Includes all the accessories including the timber tray, food tray and the cushion inserts
• Great value for money
• Tested to EN 14988:2006 -Children's High Chair Safety Requirements

Tested to EN 14988:2006 -Children's High Chair Safety Requirements
Assembled Dimension
W55cm x L55cm x H93cm
Carton 1
W46cm x L11cm x H91cm – 7kg
Age Range
3 months to 45kg
Standards Testing
Tested to EN 14988:2006 -Children's High Chair Safety Requirements
Assembly Instructions
Please contact us – Click Here
Product Care
Timber Frame: Wipe timber with a soft damp cloth
Cushion Insert: Cool hand wash
Wash separately
Use a mild and bleach-free detergent
Do not tumble dry
Do not iron
For further information see your instruction manual
Product Warranty
Click Here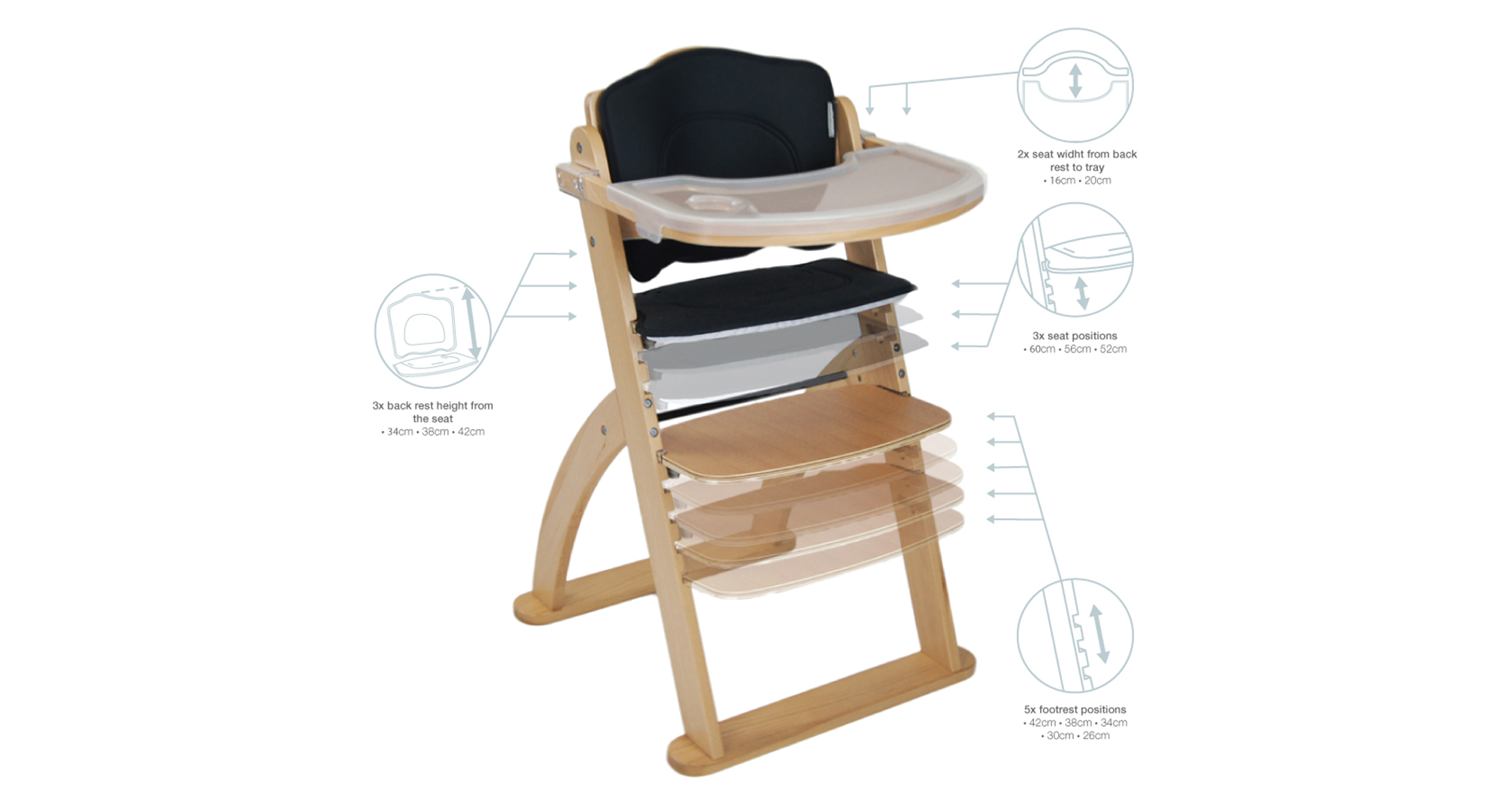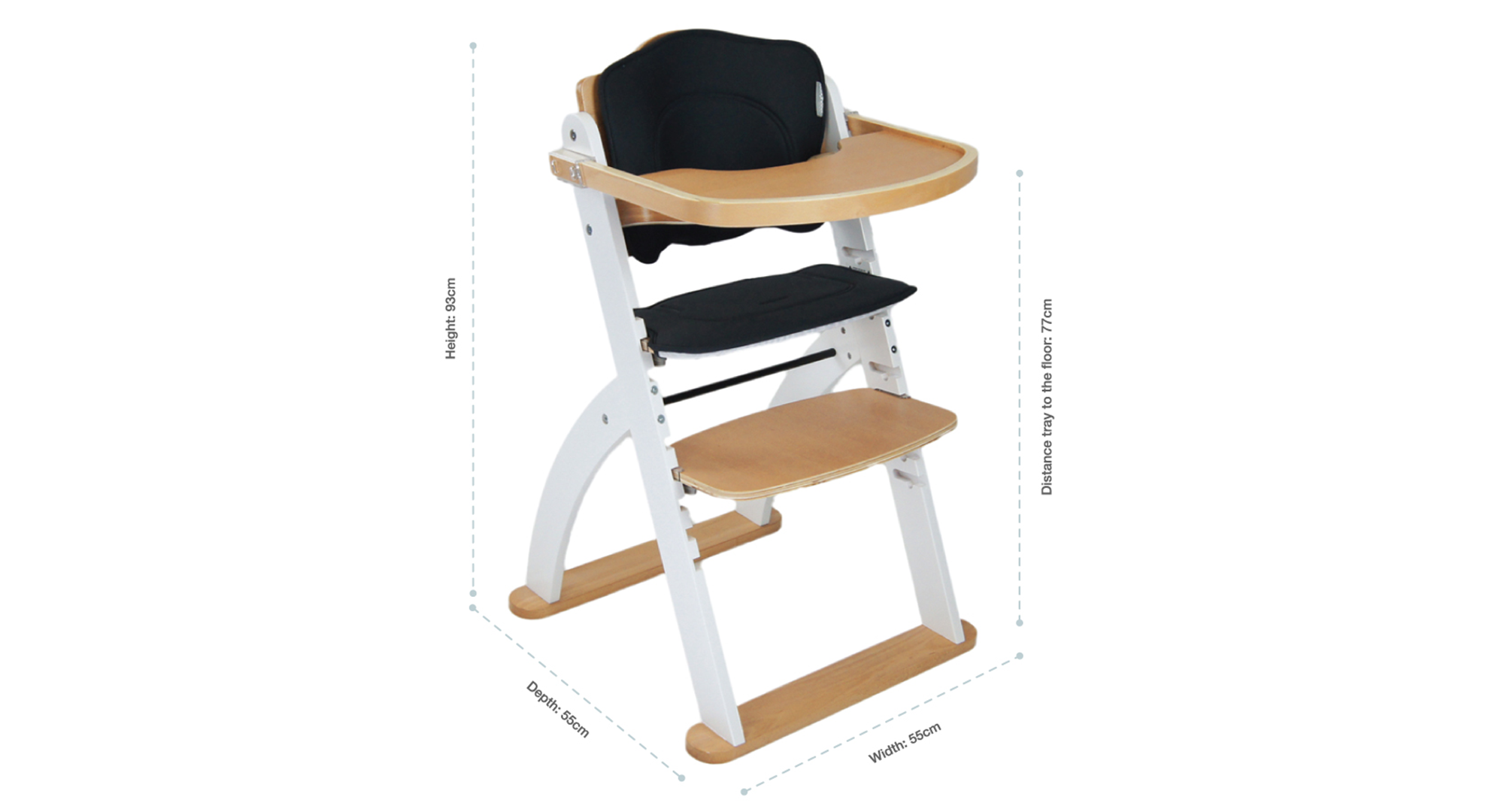 Ava High Chair

This highchair appealed as it looked really sturdy, easy to clean, would grow with my child and matched my decor. It ended up being the best purchase I made. My daughter was diagnosed with hip dysplasia and went through months of braces and a spica cast that meant she couldn't fit in conventional high chairs. The Kaylula High chair was adaptable so I could make it work for her safely and we didn't have to compromise her solids journey. She loves her food and making a mess and this highchair is so easy to clean!
@Noneedforprincecharming

Breathe Eze Cosy Crib

He loved his babyhood bed when he first slept in it at 2 wks and still loves it to this day at 18 weeks.
Jackson_2016

Breathe Eze Cosy Crib

Seriously the best thing for baby. We use it every day. Have been recommending it to everyone.
koa.and.ohana

babyhood
Great customer service and amazing quality products. We are very happy and recommend other parents to go there. From Helen & Charles via Google Reviews
Helen Modong

Kaylula Cot
They make the most beautiful products – quality that will last! We absolutely adore our Kaylula cot, it has served us well for our daughter and is ready to be used again for our second baby! I cannot recommend highly enough! via Google Reviews
Rochelle Currie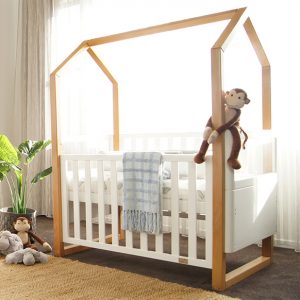 babyhood

babyhood products are funky and well made and their customer service is above and beyond. They went out of their way to help me when I had an issue with one of their products that I purchased from another supplier and were so friendly and helpful through it all. (via Google Reviews)
Kate Green

babyhood Cot
Love this cot and it is great quality with so many possibilities to grow with my daughter! Looks so perfect in her nursery 😍 via Google Reviews
Aimee Cuneo

babyhood
"Wow just wow. Went and picked up my order directly from babyhood the help was amazing – I will return and share with all my mummy friends". via Google Reviews
Jamie Fleekson

Co Sleeper Cradle
"Bought co sleeper cradle online – selected pick up in store and was ready to pick up and was ready the same day" via Google Reviews
Angus Fisher

Kaylula Collection
"Thank you for all your help guys very much appreciated. Love my Kaylula collection all your products are so unique" via Google Reviews
Jeffrey Tennyson

Riya Cot
"It's simple yet stylish design is perfect for his little space. This is the second babyhood cot I've used, and I can't find a fault." via Instagram
Mel Watts

Kaylula Sova Cot
"Fell in love as soon as I saw this cot because of its unique shape and design. My fav part is the clear panels which allow me to have a clear view of him from every angle lolol" via Instagram
@naomineo_

Kaylula Sova Cot
"Love this cot and your gorgeous bassinet @babyhood_australia" via Instagram
@littleturtlebaby

Kaylula Sova Cot
"The mattress was so important for me. It's breathable, washable and it's a thicker mattress with extra support and safety for Fox. It's also tested by Furntech – AFRDI to meet the highest Australian Standards so I'm confident I have the safest cot for my babe" via Instagram
@zoebmarshall

Kaylula Sova Cot
"Super trendy and something I usually wouldn't have the confidence to go for. It starts as a circle bassinet and grows as the baby grows into an oval cot (Yes Fox is already in this size – he is a big boy!) and then it turns into a toddler bed and eventually a little table and chairs set" via Instagram
@zoebmarshall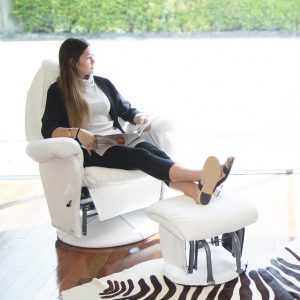 Vogue Feeding Glider Chair
"It's white, plush, so comfortable it has lumbar support – it's unbelievable how sore your back and neck gets from nursing. It's stain and scratch resistant so it stays pretty too. It also reclines and the biggest thing it doesn't rock, it glides, making it a perfect soothing chair when Fox is unsettled." via Instagram
@zoebmarshall

Ava Forever High Chair
"Still loving our high chair from @babyhood_australia" via Instagram
@yvettevargas

Riya Cot
"Went for the Riya because of the adjustable mattress and because it transitions to a toddler bed" via Instagram
@miss.goodytwoshoes

Organic Nursing Pillow
"Elle loves sitting up and watching us in my breastfeeding pillow from @babyhood_australia" via Instagram
@mikhailla

Kaylula Sova Cot
"She loves hanging out in her cot @babyhood_australia chatting away and giggling to her mobile." via Instagram
@danibonnor
Note
All products are covered by a specific warranty. Please refer to your product instruction manual for details of the warranty relating to the product. Alternatively please contact us for more information.
Timber is a natural product; that is part of its beauty, so a colour variation, knots in the timber and grain pattern are both natural and to be expected. We do not colour match timber during fabrication as the waste from such practices would be environmentally irresponsible, so you will see some variations in your products. We believe this is what makes our timber products naturally beautiful. These variations are unavoidable as timber is seasonal and will vary between seasons, including the way in which the paint appears on different surfaces. These variations will not be considered manufacturing faults or defects under our warranty.