Description
Kaylula Ava Forever High Chair
A stylish modern scandi inspired chair that is strong and made from European beechwood, so it grows and grows – up to 45 kgs.
It is the perfect chair for your baby to learn to eat solids. They can join your family directly at the dinner table or snack solo whilst you are doing the washing up. As they grow they can create a masterpiece from their study desk and continue to use the chair throughout your home as they grow into teenagerhood.
The Ava High Chair is fully adjustable, with an easily interchangeable seat and footplates as your baby's bottom grows and multiple height adjustments as their little legs grow, so they are always ergonomically seated, even for long study sessions.
Especially for you, we have included an easily adjustable and removable push-button timber tray with 2 position adjustability and an easy click on and off washable plastic food tray.
A discreet safety bar, 5 point harness and specially designed stability legs (front and back) will ensure they are as safe as can be, reducing a tipping hazard. The safety bar is removable with an allen key when your bub starts to grow and no longer needs the extra support around their tummy.
For your baby's comfort, the Ava Highchair includes a soft padded cushion seat and back inserts, which attaches conveniently to the highchair and detaches for you for an easy delicate cold wash – after those messy pasta nights.
The solid timber highchair is super easy to wipe clean with a damp cloth, with no gaps for food to accumulate.
Stronger and Safer for Your Child
Using European beechwood timber, it is designed for extra stability and security for your curious little toddler.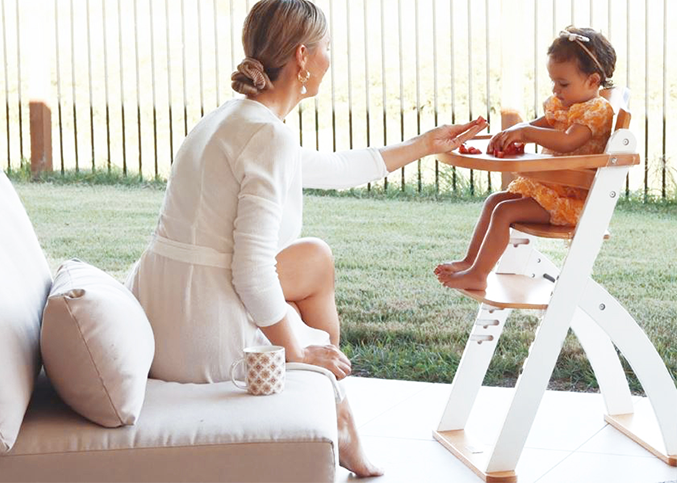 Especially Designed Stability Legs
With wide based profiles in front and back to ensure maximum balance and reduced tipping hazard, ensuring your little one is as safe as they can be.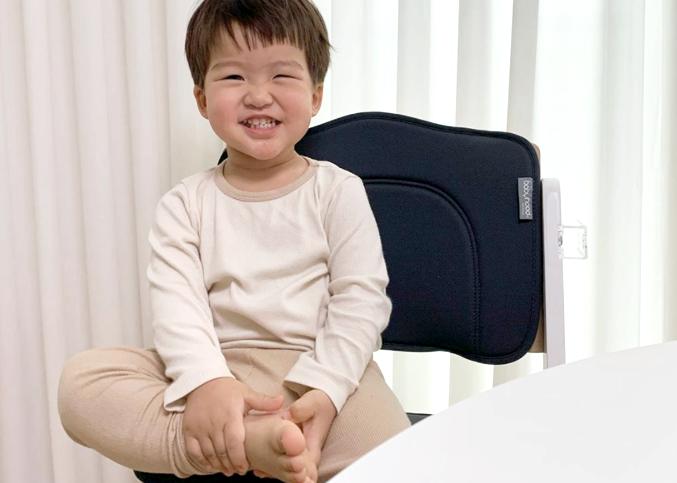 Safety Removable Bar
 A timber support barrier, as additional protection for your baby. This can be used when they first start using the high chair. It can also be removed as they grow and no longer need the extra protection.
5-Point Harness
That is adjustable to properly fit your child – remember they won't protect your child if they don't fit. It provides the peace of mind that they are not going anywhere.
Grows with Your Child
From when they sit upright until they are teenagers studying hard (or so they say!)

Seats Your Child at the Table with Your Family
Adjustable heights and an easily removable tray makes dinner time together so much more fun as your child joins your family at the table.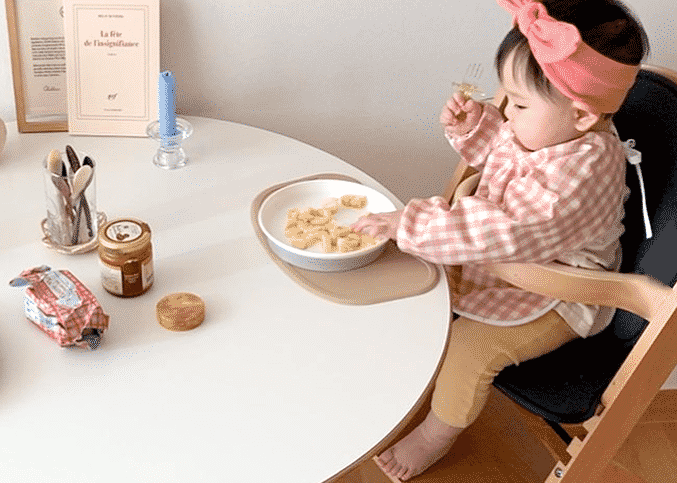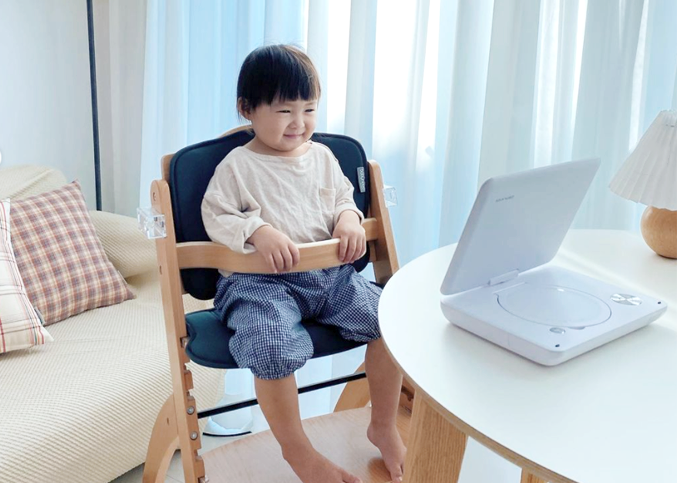 Interchangeable Seat & Footplates
You can easily interchange them as your baby's bottom grows and multiple height adjustments as their little legs grow, so they are always ergonomically seated, even for long study sessions.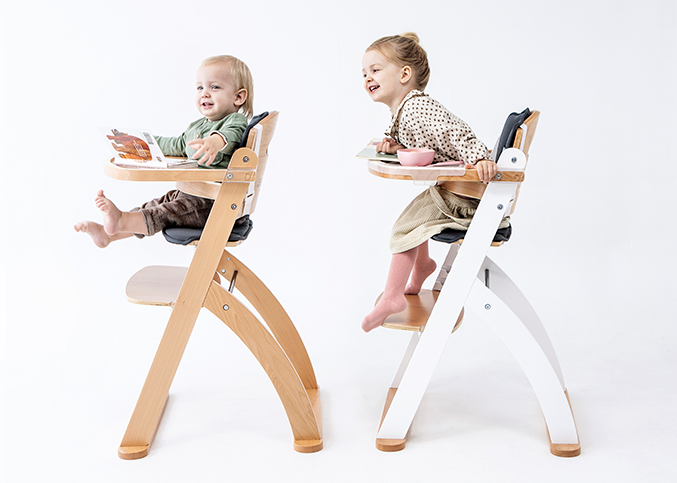 Convenient for Use
No need for a handyman or tools as the entire chair is fully adjustable, in seconds with push buttons.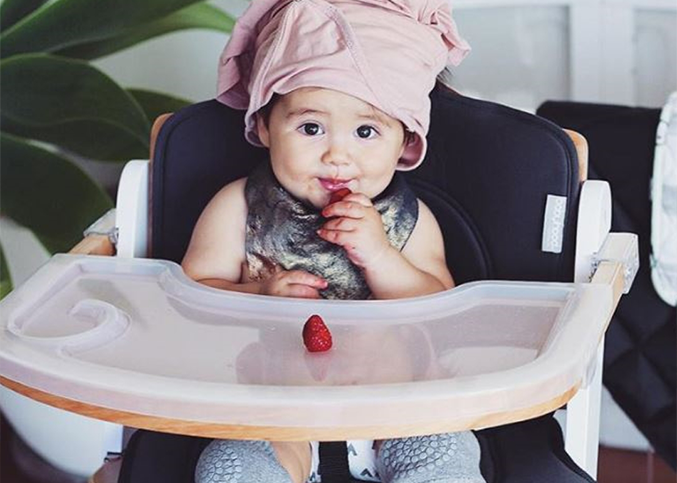 Everything Included (except the baby!)
Includes a bonus back and seat padded cushion, 5-point harness and washable tray.
Easy to Clean
Its soft padded cushion seat and back inserts are easily removable so they can be washed in a delicate cold wash. And its BPA-free washable plastic food tray can be placed in the dishwasher when needed.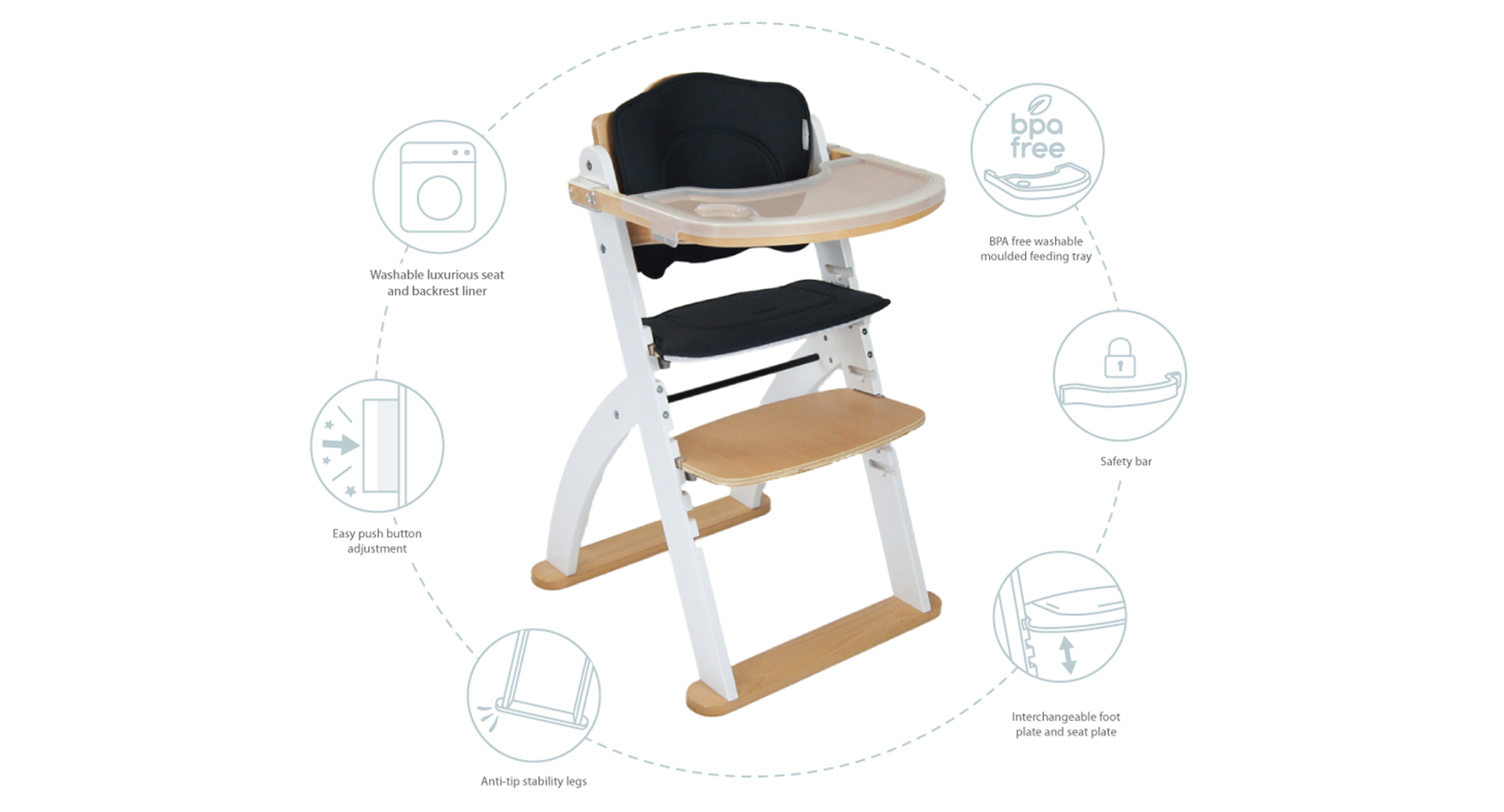 Features
• Grows with your child up to 45kg
• Safer for your baby with multiple safety features like anti-tip stability legs which prevent the high chair from falling over easily
• Early use support bar around your baby's tummy to give them additional support until they grow a little more
• Easily adjustable seat and foot plates for optimal ergonomics so your child is always comfortable
• No allen key or screw driver required or re-assembly to adjust the seat or foot plates – just a simple push button
• Interchangeable foot plate and seat plate to accommodate a growing baby's bottom
• Push button removable tray so your baby can join you at the dinner table, at any time
• Optimal height for the standard dinner table (76cm) so you can remove the tray and your child can join the family for meal times
• Taller than most timber high chairs for your convenience
• Strong and sturdy as it is made from European beechwood
• Multi-position timber tray so as your child's tummy grows, the tray can be adjusted further outwards
• Washable BPA free food tray
• Easy clean with a damp cloth and delicate cold machine washable cushion inserts
• Includes all the accessories including the timber tray, food tray and the cushion inserts
• Great value for money
• Tested to EN 14988:2006 -Children's High Chair Safety Requirements

Tested to EN 14988:2006 -Children's High Chair Safety Requirements
Assembled Dimension
W55cm x L55cm x H93cm
Carton 1
W46cm x L11cm x H91cm – 7kg
Age Range
3 months to 45kg
Standards Testing
Tested to EN 14988:2006 -Children's High Chair Safety Requirements
Assembly Instructions
Please contact us – Click Here
Product Care
Timber Frame: Wipe timber with a soft damp cloth
Cushion Insert: Cool hand wash
Wash separately
Use a mild and bleach-free detergent
Do not tumble dry
Do not iron
For further information see your instruction manual
Product Warranty
Click Here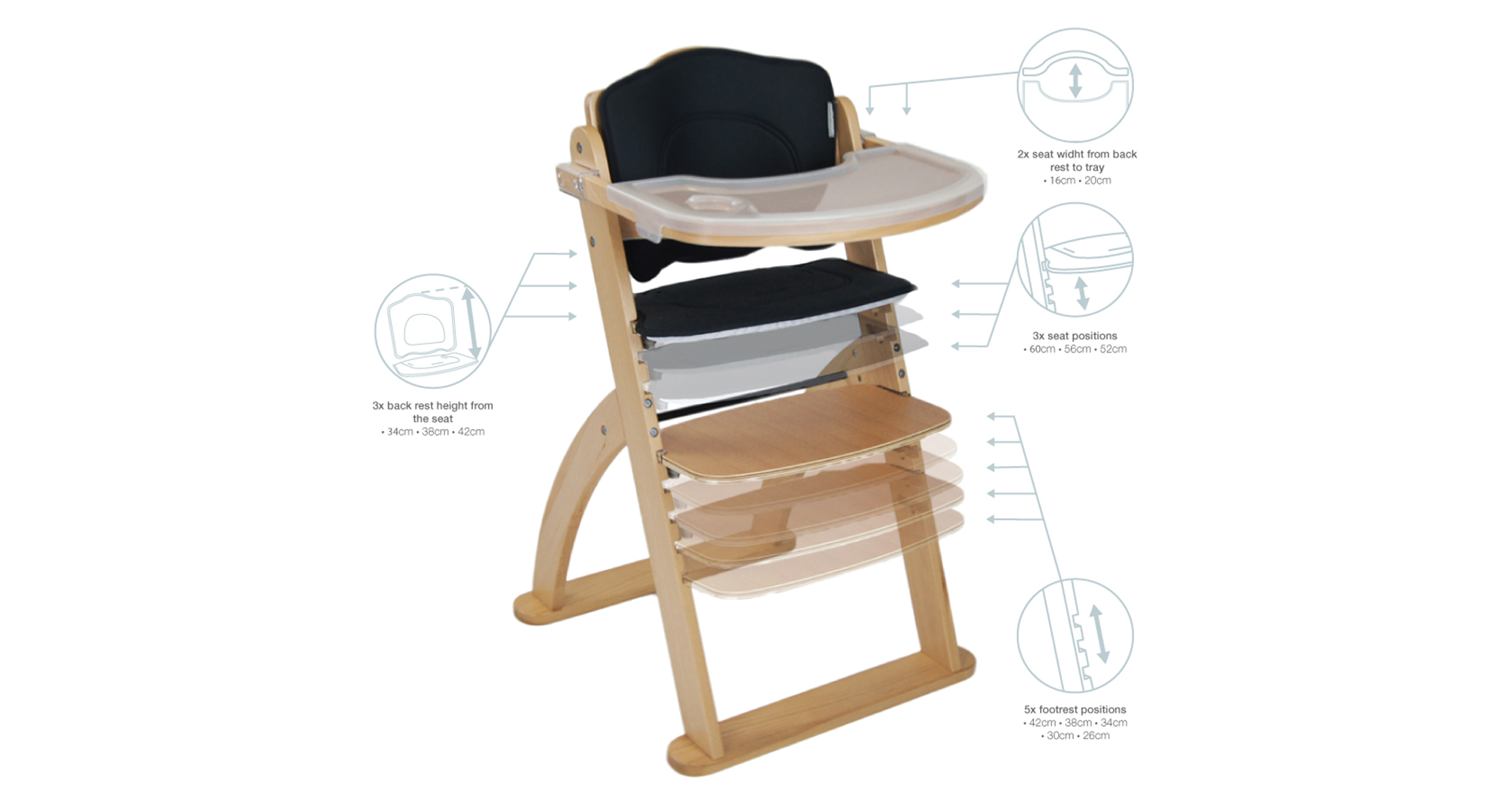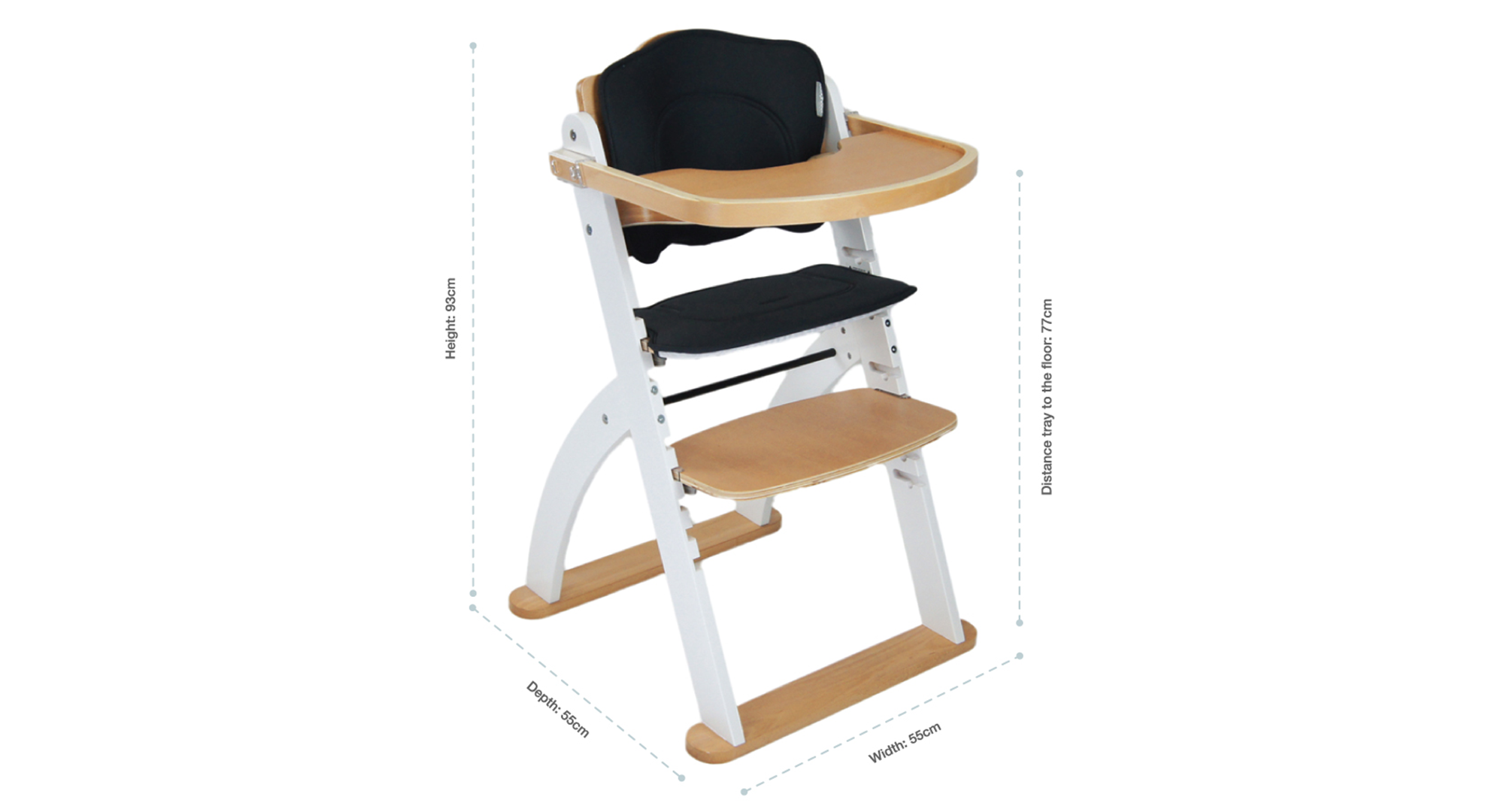 Ava High Chair

This highchair appealed as it looked really sturdy, easy to clean, would grow with my child and matched my decor. It ended up being the best purchase I made. My daughter was diagnosed with hip dysplasia and went through months of braces and a spica cast that meant she couldn't fit in conventional high chairs. The Kaylula High chair was adaptable so I could make it work for her safely and we didn't have to compromise her solids journey. She loves her food and making a mess and this highchair is so easy to clean!
@Noneedforprincecharming

Ava Forever High Chair

"Still loving our high chair from @babyhood_australia" (Via Instagram)
@yvettevargas

Kaylula Ava Forever High Chair

Brilliant chair – chose this over the Stokke and its everything I was hoping for. Highly recommend. (Via Temple & Webster)
Lisa – Verified owner

Kaylula Ava Forever High Chair

We had a Stokke Tripp trapp chair for our eldest from the age of 3-7 years old and it was great. This time i chose the Kaylula Ava Forever chair, a bit less expensive and it includes all the extras. Our 3.5year old loves it and the cushioning is very comfortable. Extremely easy to assemble the whole thing and this will now be his chair until he is tall enough for a normal seat. (Via Bubs N Grubs)
Toni3 – Verified owner

Kaylula Ava Forever High Chair

I really love this highchair. I have previously had a highchair which was very padded and had the ability to fold for storage etc which was great, but it was a nightmare to keep clean with all of the creases and crevices. This highchair is simple to use and cleaning is a breeze. A quick wipe down of the clip on plastic tray cover cleans up the initial mess and then once the child is out, I just slide out the seat section and take it over to the bin to brush off any crumbs etc. A quick slide and click back into place with the seat and the highchair is all back together ready for the next use. I also love that the harness is not too difficult to remove if it ever needs a clean. As the highchair grows with your child, I look forward to using this chair for years to come. (Via Bubs N Grubs)
Claywells – Verified owner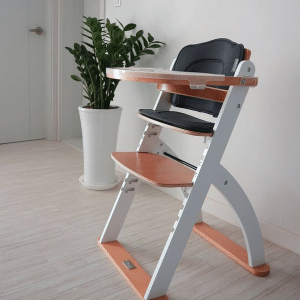 Kaylula Ava Forever High Chair

Once the chair is screwed together, it's very sturdy. It's also really adjustable and the tray slides out easily for baby insertion. Not sure why you'd bother with the cushions, but I guess the choice is good. It fits neatly over the top of the table so the terror can sit up with us as if she's at the table. The plastic clip in food tray is a great idea too. We use the harness so she doesn't slide out. Like all harnesses it's fiddly but it works. Over all it's a nice looking chair. We went for the all wood look. (Via Bubs N Grubs)
Owen Spring

Kaylula Ava Forever High Chair

The chair was easy to assemble and was VERY well packaged! I ordered extra harnesses and cushions to go with the chair so that I had some in rotation while washing them! Love the fact that this chair has safety notches for the seat and footrest. My little one would easily push out the bases from the Mocka chair and others that are similar to this style. This one has safety notches meaning I am much less stressed about that happening. She also cannot push the tray out (clips on the side are great!) and cannot flip it off either! You can also add sweet notes to your little one under the high chair that they can see while eating. Helpful for showing where her spoon and plate go 🙂 Absolutely loving my purchase! (Via Bubs N Grubs)
Heartbubble2017

Kaylula Ava Forever High Chair

"Love this high chair easy to clean, move around and our little girl loves it". (Via Little Mash Boutique)
Renee T

Kaylula Ava Forever High Chair

"We love the ease of this high chair. Well worth the investment for the quality, design and functionality! A real favourite in our house." (Via Little Mash Boutique)
Kathleen

Kaylula Ava Forever High Chair

"Really happy with the high chair – love the removable plastic cover which makes it easy to clean up but keeps the wood in great condition and even the padding is easy to wipe clean. It's a beautiful design and very functional with the footrest which helps with bubs' balance. Thanks for stocking the products!" (Via Little Mash Boutique)
Corne M

Kaylula Ava Forever High Chair
"Great high chair! This high chair is so sturdy. It was extremely easy to put together and will last for as long as my child needs it because of how adjustable it is – it will change as my child grows. It's also great to look at and easy to clean. Well worth the purchase!." (Via Baby Luno)
Tiana W
Note
All products are covered by a specific warranty. Please refer to your product instruction manual for details of the warranty relating to the product. Alternatively please contact us for more information.
Timber is a natural product; that is part of its beauty, so a colour variation, knots in the timber and grain pattern are both natural and to be expected. We do not colour match timber during fabrication as the waste from such practices would be environmentally irresponsible, so you will see some variations in your products. We believe this is what makes our timber products naturally beautiful. These variations are unavoidable as timber is seasonal and will vary between seasons, including the way in which the paint appears on different surfaces. These variations will not be considered manufacturing faults or defects under our warranty.