Description
Travel more and worry less with our new Air Compact Stroller 2.0
For all your fun filled family adventures (and sometimes the mundane grocery shopping) we have everything you need in a compact, super light stroller with a new assisted auto fold mechanism which makes light work of busy days out and about.
The unique super lightweight design delivers a complete all-round solution for parents, on the go with a feather lightweight.
It is newborn ready with a reclinable seat or you can use it with your infant capsule – as it is travel system compatible.
The seat includes luxury features for your baby including a larger seat for growing toddlers, beautiful luxury washable textiles, leatherette bumper bar and handlebar, generous storage basket for your shopping needs and a carry bag for travelling.
The powder coated aluminium frame is strong and stable and it is weight tested to 18kgs – which is a mighty heavy toddler.
It has a smooth glide wheel system with high density EVA wheels which provide you with easy control and steering to navigate all sorts of terrain with ease, even the bumpy ones.
The Air Compact is especially convenient for parents with multiple accessory options including a stylish stroller caddie for all your valuable essentials in one easy place, a cup holder for your early morning espresso and maxi cosi infant capsule adaptors to create your own travel system.
Need more information?
No Juggling Act Required with a Single Hand Assisted Auto
Fold Mechanism
When you are juggling a fussy toddler, a nappy bag and trying to get to where you need to go quickly, then the NEW Air Compact Stroller makes parenthood that little bit easier. Just unlock and push open – a super easy auto fold.
To make it easier the stroller frame will auto lock when folded and you can secure the frame using the tether lock, to ensure easy travels.
Full Coverage Sun Protection – Perfect for Our Climate
No need to throw wraps and blankets over your stroller, to provide your newborn baby with sun protection. The Air Compact Stroller has maximum sun protection with a NEW full coverage sun drape with air flow vents. This is the perfect feature for travels with your newborn.
The stylish canopy and hood provide optimal air flow and greater visibility with a large design, including the NEW zip open sun drape, in a lightweight breathable fabric.
Extra UV Protection
The seat, hood and sun drape are all UPF 50+ treated for optimal sun protection – so we have extra UV protection.
Breathe Baby, Breathe
The peak a boo mesh window ensures extra air flow on stifling hot days and the extendable sunshade can be pulled out for a summer stroll in the park.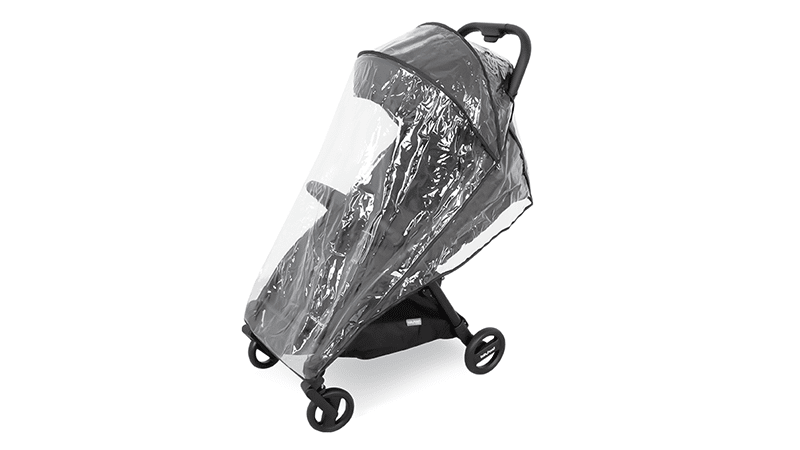 It's Raining, It's Pouring, and Baby is Snoring
Whilst we can't put your baby to sleep, we have ensured they are well protected from the rain with a NEW fully body rain cover, so you can get on with living even in the wet.
All in One Larger Seat Unit Suitable from Newborn

A more versatile seat than many other compact stroller seats, as it gives your baby growing room – both wider and taller. Check out our specs!
It can be used safely for newborns with a fully adjustable recline system so no need to purchase a separate insert or bassinet saving you money and extra storage space in your home and especially in your car!
Strong and Sturdy Frame for our Chunky Monkeys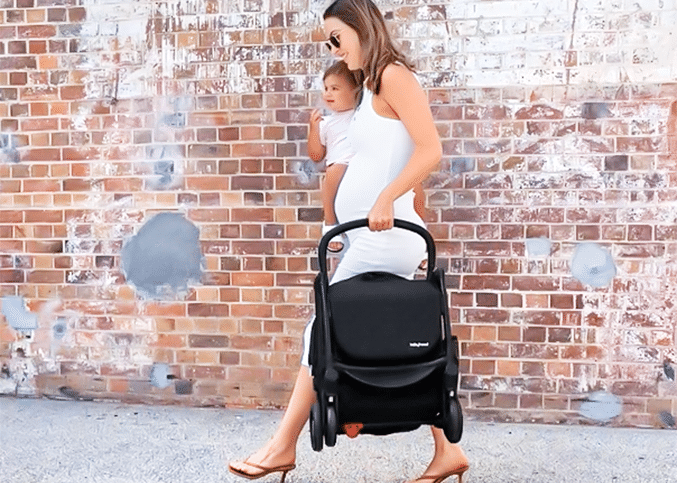 One hand super easy assisted auto fold so you won't need extra arms or legs to fold this stroller or a degree in astro-physics (although that might be very cool).
Lightweight aluminium frame and seat, at 8.1kg so it is very easy to lift int your car – even if you are a lightweight yourself.
We have even added a NEW 2 way locking system with an auto lock and a secure tether lock, so it is even easier and safer to close and stay closed.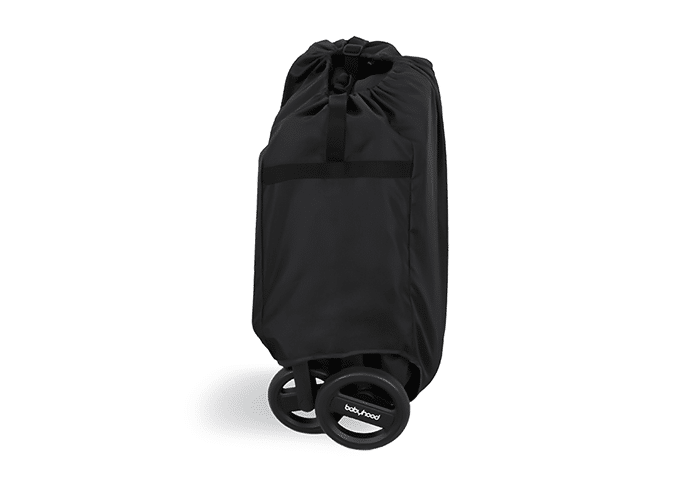 Compact fold size (in bag) at 54cm x 48cm x 23cm to fit most airline cabin luggage – although as there are thousands of airlines, so please check with your airline prior to travel.
Assembled dimensions – 41cm x 70cm x 103cm.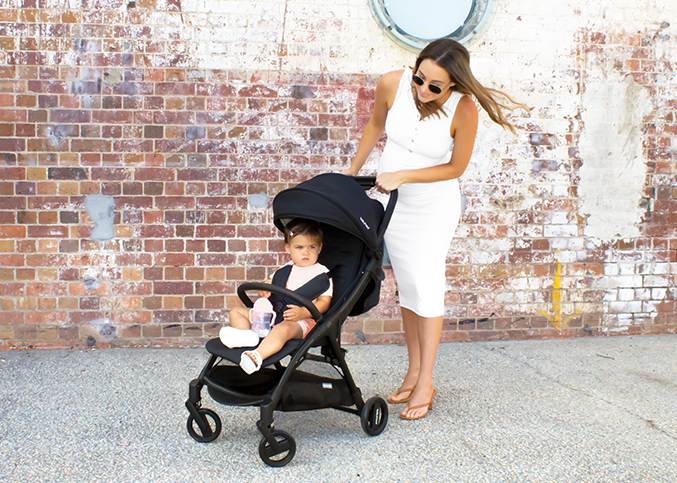 Single linked foot brake system for those quick pit stops.
Soft elastic tether strap attached to the frame, so you don't have to worry about losing the stroller or your baby.
New technology frame flex suspension – which is suspension delivered through the flex of the frame and rear wheel independent suspension for a comfy vibration free ride especially for the most precious of cargo – your baby.
Smooth Ride for the Little Adventurer
• Four-wheel design for optimum weight distribution so your baby is always safer around curbs and bumpy surfaces.
• High density EVA wheels to provide a smooth glide.
• Sealed metal bearings for more consistent and responsive push.
• Single button release front and rear wheels for easy cleaning after a hard day of work and play.
• Front 360-degree swivel wheels to help you get in and out of tight spots quickly.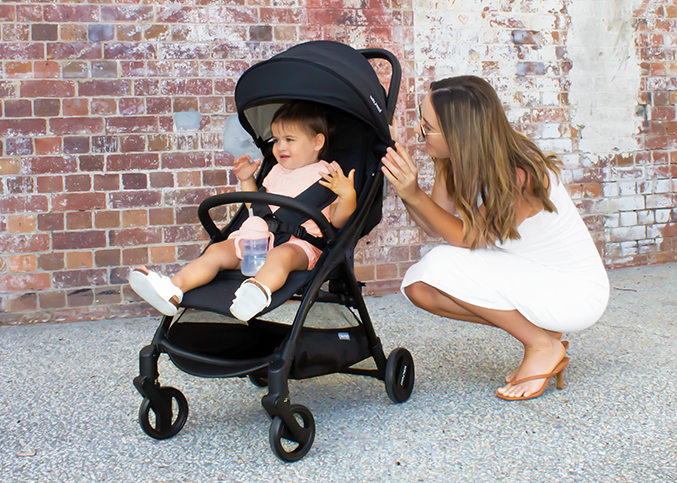 Especially for Your Convenience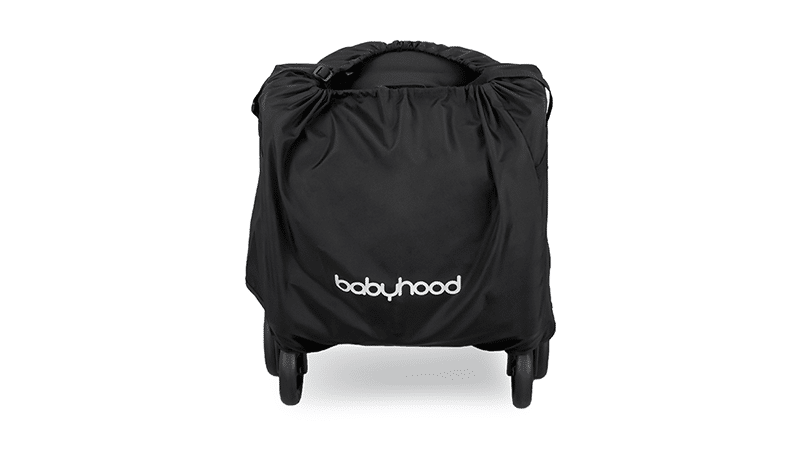 A clever duffle travel bag that can be used to store your stroller when you are out and about and also can be used a carry bag over the handle of your stroller for all the extra items you collect on your adventures with bub – up to 2kg.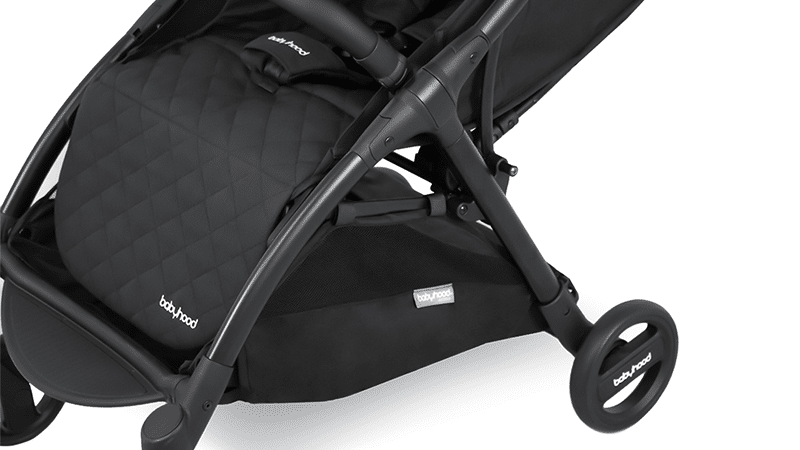 Easy access shopping basket for storage space.
Single position leatherette handlebar at 105cm for an easy push at an optimal height
Single button leatherette bumper bar to make it easy to get bub in and out of the pram, especially when they are asleep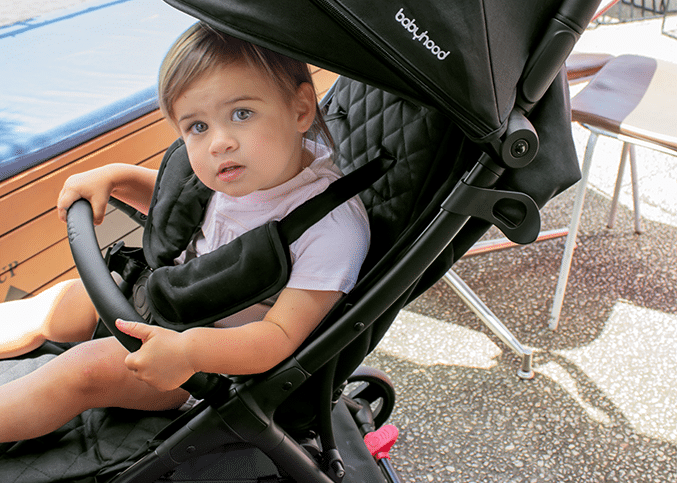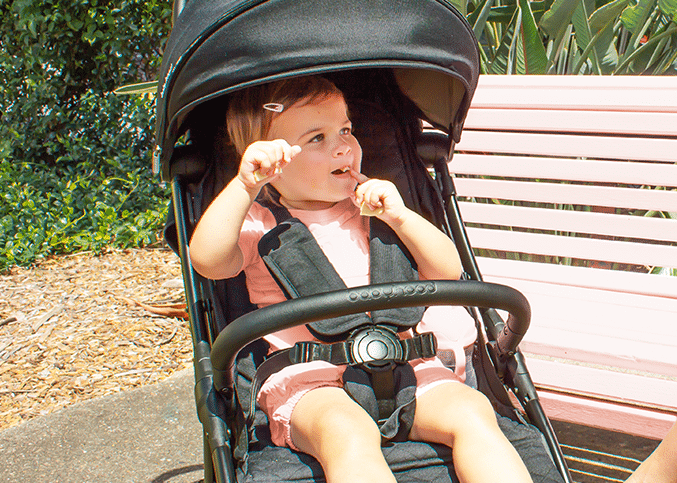 Easy to secure and release 5-point 50/50 harness with padded harness pads for those moments that our hands are full – most of the time!
Foot brake system so when your hands are full you can easily secure your pram for quick pit stop – even in heels!
Travel System Compatible for Parents Always on the Move
Converts from stroller to travel system with the Infant Capsule Adaptors
Compatible with Maxi Cosi Capsule
Suitable as carry on luggage on most airlines as the folded dimension are within the allowed cabin size as per IATA regulation (we recommend you check with your local airline prior to flying as airline cabin space do vary).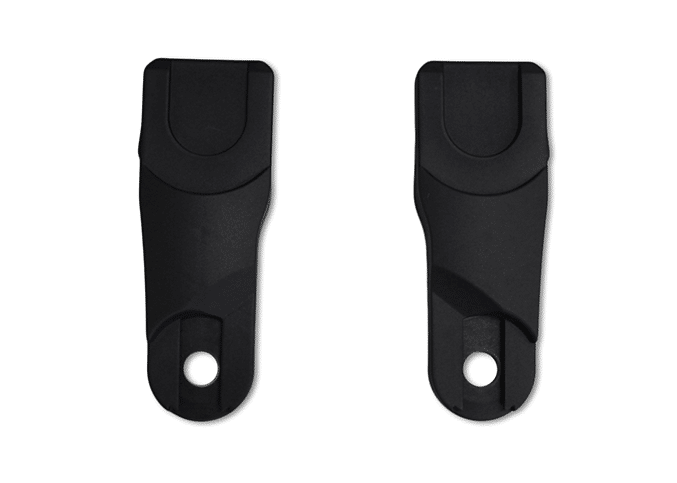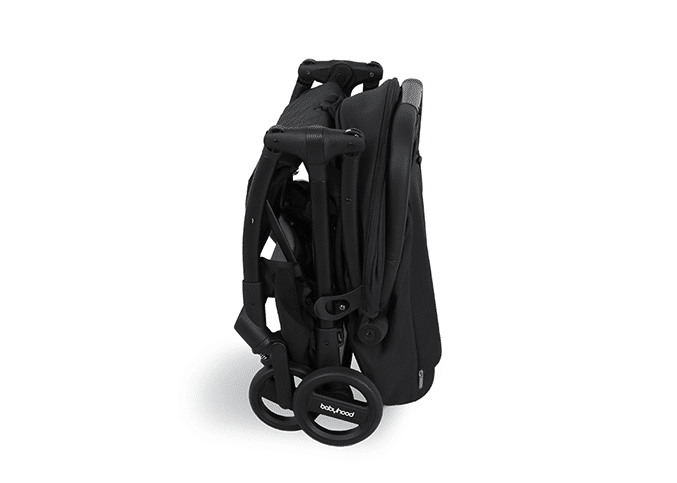 Features
• Single hand assisted auto fold system.
• Lightweight and compact
• Zip out concealed sun drape for full sun protection.
• UPF 50+ sun protection
• A full body rain cover.
• Fully adjustable recline positions for your newborn baby starting from lay flat.
• A toddler seat for your growing child who still needs a ride.
• Luxury breathable textiles with a loose weave mélange fabric which accelerates air flow through the stroller for a cool and comfortable environment for your baby – no saunas today!
• Deluxe quilted seat liner for extra padding for your baby's toosh.
• Adjustable hood with an additional sunshade for the balmy summer days
• Peak a boo mesh window for extra air flow.
• 5 point harness system to hold on tight on those great adventures.
• Removeable machine washable seat cover so you can be rid of the squishy gooey stuff that babies love to create and leave behind
• Ergonomically designed seat which is better for your baby, with luxurious padding providing optimal support for your baby whilst sleeping, playing or daydreaming
• Suitable as carryon luggage on most airlines as the folded dimension are within the allowed cabin size as per IATA regulation (we recommend you check with your local airline prior to flying as airline cabin space do vary).
Extra Love = Extra Peace Of Mind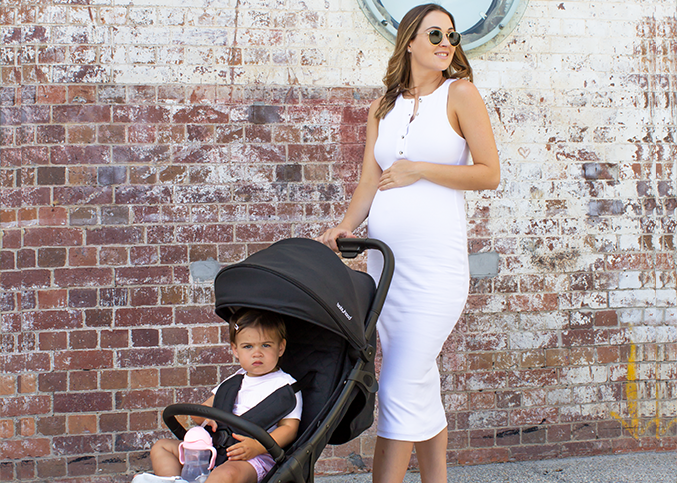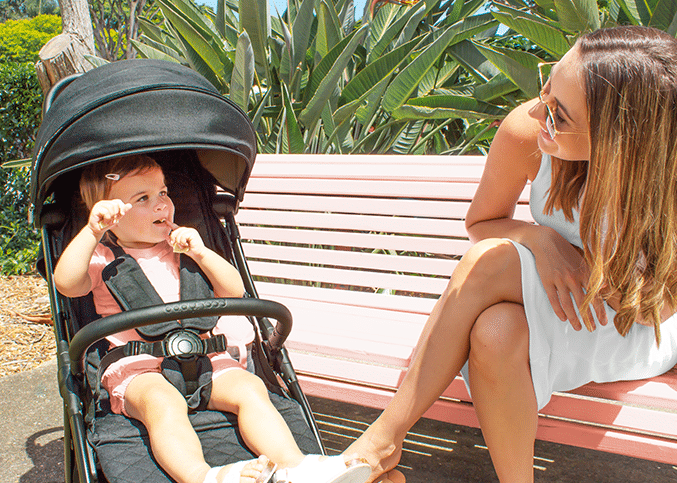 Our Promise – Double The Protection With A 2 Year Warranty
We offer a 12-month warranty from date of purchase, which covers all manufacturing faults excluding the usual wear and tear.
AND because we understand the challenges of parenting we offer you double the protection with registration at this link 
We will offer you a 2-year warranty from the later of date of purchase or date of birth.
This extended protection means you can be rest assured that you have purchased a quality product that will last the distance.  
Enjoy your adventures!


Tested to AS/NZS 2088:2013 – Prams and Strollers Safety Requirements
What Is Included
Aluminium frame
Seat unit
Adjustable 5-point harness with padding
4x Eva wheels
Full body rain cover
Built-in sun drape
Storage basket
Leatherette covered bumper bar
Leatherette covered handlebar
Tether strap
Duffle travel bag
Open Stroller Dimension
W41 x L70 x H105cm
Folded Stroller Dimension (In bag)
W54 x L23 x H48cm
Carton 1
W43cm x L21cm x H52.5cm
Handle Height
105cm
Stroller Weight
8.1kg
Age Range
Recline Seat Mode – Newborn to earlier of 6 months or when baby can sit up unassisted
Toddler Seat Mode– From 3 months to 18kg
Storage Capacity
2kg
Standards Testing
Tested to AS/NZS 2088:2013 – Prams and Strollers Safety Requirements
Assembly Instructions
Please contact us – Click Here
Product Care
Clean frame using a damp cloth and mild detergent.
Ensure that no residue of detergent is left on your frame.
Clean wheels and brakes using a clean cloth regularly.
Seat fabric covers can be machine wash in a gentle cycle (mild detergent) with cold water.
Line dry flat in shade only.
Do not tumble dry.
Do not dry clean.
Remember to regularly clean all moving parts, especially after a day out at the park or the beach.
Do not store in damp conditions.
For further information see your product packaging.
Warranty
For warranty service, return your stroller to your local service centre for assessment.
Brisbane – babyhood
132 – 134 Compton Road, Woodridge, QLD-4114
Melbourne – Baby Second Heaven
1B, Deane Street, Frankston, VIC-3199
Sydney – Pram Fix
1/85 Parraweena Rd, Caringbah, NSW-2229
If you are not located in any of the cities listed above, please contact us.

Breathe Eze Cosy Crib

We love this little bed by babyhood it is easy to move from my office to the coaching floor and Lex loves kicking about on it. I'm actually kinda jelly that I don't fit in it because I'd totes use it.
@reviejane

Breathe Eze Cosy Crib

He loved his babyhood bed when he first slept in it at 2 wks and still loves it to this day at 18 weeks.
Jackson_2016

Breathe Eze Cosy Crib

Seriously the best thing for baby. We use it every day. Have been recommending it to everyone.
koa.and.ohana

babyhood
Great customer service and amazing quality products. We are very happy and recommend other parents to go there. From Helen & Charles via Google Reviews
Helen Modong

Kaylula Cot
They make the most beautiful products – quality that will last! We absolutely adore our Kaylula cot, it has served us well for our daughter and is ready to be used again for our second baby! I cannot recommend highly enough! via Google Reviews
Rochelle Currie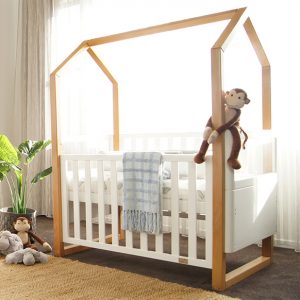 babyhood

babyhood products are funky and well made and their customer service is above and beyond. They went out of their way to help me when I had an issue with one of their products that I purchased from another supplier and were so friendly and helpful through it all. (via Google Reviews)
Kate Green

babyhood Cot
Love this cot and it is great quality with so many possibilities to grow with my daughter! Looks so perfect in her nursery 😍 via Google Reviews
Aimee Cuneo

babyhood
"Wow just wow. Went and picked up my order directly from babyhood the help was amazing – I will return and share with all my mummy friends". via Google Reviews
Jamie Fleekson

Co Sleeper Cradle
"Bought co sleeper cradle online – selected pick up in store and was ready to pick up and was ready the same day" via Google Reviews
Angus Fisher

Kaylula Collection
"Thank you for all your help guys very much appreciated. Love my Kaylula collection all your products are so unique" via Google Reviews
Jeffrey Tennyson

Riya Cot
"It's simple yet stylish design is perfect for his little space. This is the second babyhood cot I've used, and I can't find a fault." via Instagram
Mel Watts

Kaylula Sova Cot
"Fell in love as soon as I saw this cot because of its unique shape and design. My fav part is the clear panels which allow me to have a clear view of him from every angle lolol" via Instagram
@naomineo_

Kaylula Sova Cot
"Love this cot and your gorgeous bassinet @babyhood_australia" via Instagram
@littleturtlebaby

Kaylula Sova Cot
"The mattress was so important for me. It's breathable, washable and it's a thicker mattress with extra support and safety for Fox. It's also tested by Furntech – AFRDI to meet the highest Australian Standards so I'm confident I have the safest cot for my babe" via Instagram
@zoebmarshall

Kaylula Sova Cot
"Super trendy and something I usually wouldn't have the confidence to go for. It starts as a circle bassinet and grows as the baby grows into an oval cot (Yes Fox is already in this size – he is a big boy!) and then it turns into a toddler bed and eventually a little table and chairs set" via Instagram
@zoebmarshall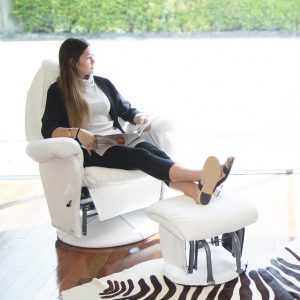 Vogue Feeding Glider Chair
"It's white, plush, so comfortable it has lumbar support – it's unbelievable how sore your back and neck gets from nursing. It's stain and scratch resistant so it stays pretty too. It also reclines and the biggest thing it doesn't rock, it glides, making it a perfect soothing chair when Fox is unsettled." via Instagram
@zoebmarshall

Ava Forever High Chair
"Still loving our high chair from @babyhood_australia" via Instagram
@yvettevargas

Riya Cot
"Went for the Riya because of the adjustable mattress and because it transitions to a toddler bed" via Instagram
@miss.goodytwoshoes

Organic Nursing Pillow
"Elle loves sitting up and watching us in my breastfeeding pillow from @babyhood_australia" via Instagram
@mikhailla

Kaylula Sova Cot
"She loves hanging out in her cot @babyhood_australia chatting away and giggling to her mobile." via Instagram
@danibonnor
Note
All products are covered by a specific warranty. Please refer to your product instruction manual for details of the warranty relating to the product. Alternatively please contact us at sales@babyhood.com.au for more information.