Description
Ergo Grouper Bath & Stand
This multi-award winning bath and stand is the perfect combination to ergonomically support you to safely bath your baby, as they grow.
The Ergo Bath & Stand is large, with a wider and deeper size for your baby as they grow. It gives your child space to splash and play and to float gently into sleepy dreamland, before bedtime. The bath is packed with convenient features for you including a drain plug and hose so you are never lifting a heavy bath (filled with water) for drainage – simply open the drain plug and the water gently funnels down the hose into your nearest drainage point. The sides of the bath have easy to hold no slip handles for your safety.  It has a non-slip ripple so the bath is less slippery and your baby feels safer and does not slip endlessly. You can also use the bath on a stable counter top, as it has non slip rubber pads so it is stable and sturdy to use,
The Ergo Grouper Bath pairs perfectly with the Ergo Grouper Stand. It is strong and sturdy with the cross over legs which support your baby and the heavy weight of the bath water through the most robust bath play sessions. The legs are fitted with non slip rubber caps to help ensure the bath stand stays firm to the floor and avoids slipping in wet spaces. The stand is especially designed to ergonomically support you to stand comfortably and bath your baby, so no heavy bending or straining your back or shoulders – unlike many baths that sit on the floor and force you to kneel into them, straining your body. Best of all the bath stand folds easily and conveniently for compact storage when not in use.
The Ergo Bath & Stand is perfectly paired with a babyhood bath support as it is deep enough to support your bub on the bath support and still allow your baby to have lots of space to splash and play
 Read our Tips on How to Make Bath Time with Baby Easier – Click Here
Easier to Use
As it is larger, wider and deeper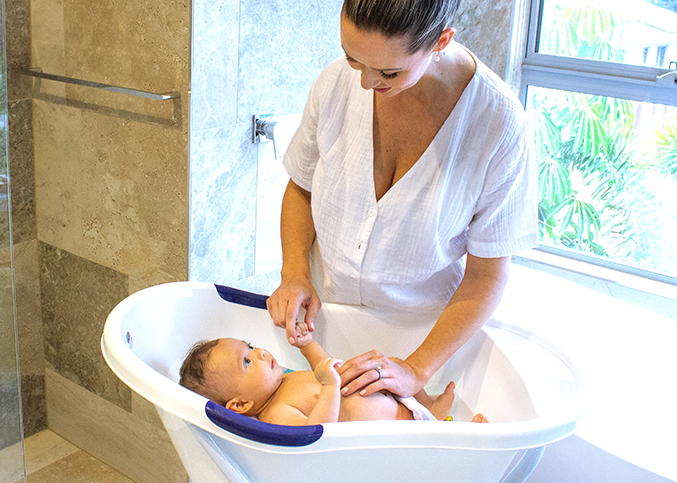 Safer
as it is packed with features for your and baby's safety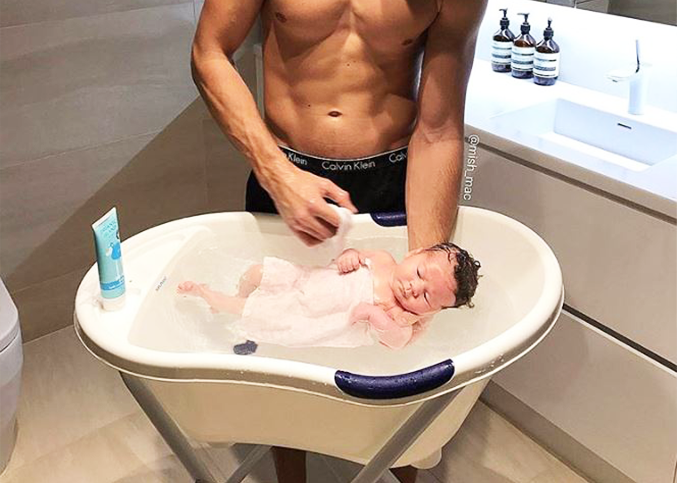 Ergonomic Design
Ergonomically better for your back and shoulders, with a drain hole and strong stand
Flat Fold
Cross over stand design for easy storage
Bath Features
• Safer
• Wider and deeper bathing space
• Non-slip ripple
• Easy grip handles
• Non-slip rubber pads
• Drain hose and plug
• Available in white and turquoise.
Stand Features
• Strong and sturdy
• Ergonomic height so no heavy bending
• Non-slip caps
• Cross over frame
• Foldable compact frame

Assembled Dimension Bath
W50cm x L79cm x H28cm
Assembled Dimension Stand Open
W49cm x L45cm x H102cm
Assembled Dimension Stand Folded
W18cm x L45cm x H126cm
Packaged Dimensions Bath
W52cm x L81cm x H31cm
Packaged Dimensions Stand
W18cm x L56cm x H133cm
Bath Colours
White and Turquoise
Stand Colours
White
Age Range
New Born to 24kg including water
Assembly Instructions
Please contact us – Click Here
Product Care
The frame and plastics may be cleaned with a damp cloth and a mild detergent solution and dried with a soft cloth.
Product Warranty
This product carries a 6 month from the date of purchase manufacturer's fault warranty. Please return your product to your store of purchase with a copy of your receipt, for any assistance.
For more information – Click Here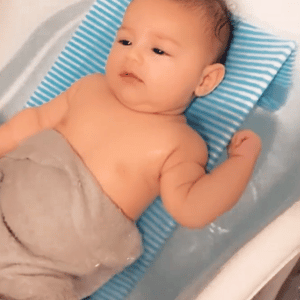 Ergo Bath Grouper + Toweling Bath Support

Our @babyhood_australia Ergo Grouper Bath & Stand + towelling bath support makes bath time so much easier! Not only does it save our backs but having the bath support helps when there is only one of us washing Georgii! It's also super comfortable and relaxing for our little prince 🥰 – Via Instagram
@sapphiroula_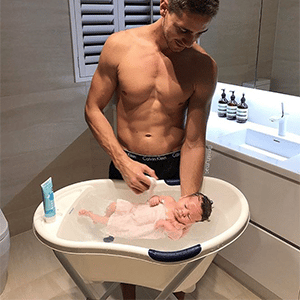 Ergo Grouper Bath & Stand

Excellent price and works really well. We put this on our shower to make it easy to fill and drain. The stand means no sore back and bath time is super easy!! This would be in my list of most useful items for new parents.  – Via Bubs N Grubs
Chloe Appleton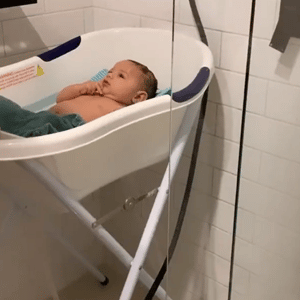 Ergo Grouper Bath & Stand

After extensive review I settled for this bath tub and stand. Amazing quality. My wife can manage to give a bath to the bub by herself when I'm not around. Highly recommended 👩‍👧 – Via Bubs N Grubs
Ashr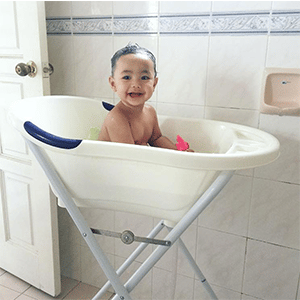 Ergo Grouper Bath & Stand

The small stand frame on this suited our small shower really well. The smallest dimensions compared to other products.
Drain plug means no lifting or tipping the water out when done. No sore back as not hunched over. Folds up for storage when not in use. Great product.  – Via Bubs N Grubs
Bec Whelan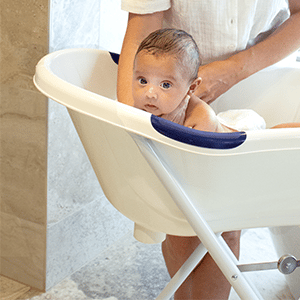 Ergo Grouper Bath & Stand

I originally came across this Babyhood Ergo Grouper Bath Stand at a baby expo and saw that it was a great quality bath. I love that it has a stand and it fits perfectly inside my shower. An added feature is the drain plug. No more bending or heavy lifting. Great product!  – Via Bubs N Grubs
Donna Borja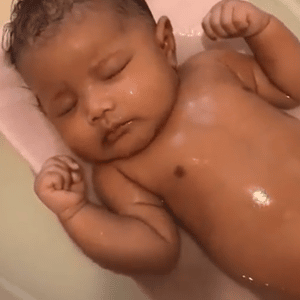 Ergo Grouper Bath & Stand

This bath tub has definitely made my life easier! It comes with a stand which is very stable and sturdy so it makes me feel safe bathing my newborn baby 👶🏼 I also like that it's spacious and I can add the newborn bath support for some comfort for baby and me 👩‍👧 – Via Instagram
@narisasoraya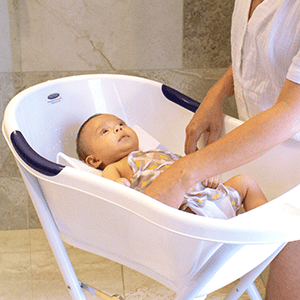 Ergo Grouper Bath & Stand

We have a large en-suite shower, and no bathtub so this product is wonderful for me. Its tall enough that it won't hurt my back and very sturdy. It's also easy to empty, no need to lift a heavy tub I just aim the hose down towards the drain. 👩‍👧 – Via Bubs N Grubs
Natasha Buckley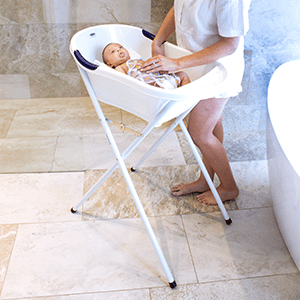 Ergo Grouper Bath & Stand

We bath Baby in our (large) shower in our ensuite. This bath and stand is sturdy and doesn't slip on wet tiles. Love the plug and drainage pipe – no tipping the bath over to get rid of dirty water. There are also little places on the edge for soap, face washers, etc, also with drainage holes. Well thought-out. – Via Bubs N Grubs
Sheryn Gung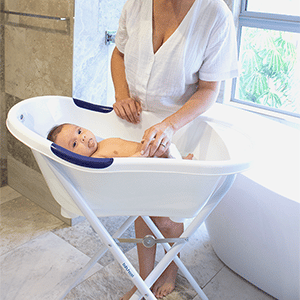 Ergo Grouper Bath & Stand

Great height , sturdy stand, good size bath, like the idea it has drain hole and pipe to drain.
Very quick service would highly recommend both this bath and stand. – Via Bubs N Grubs
Anna Barron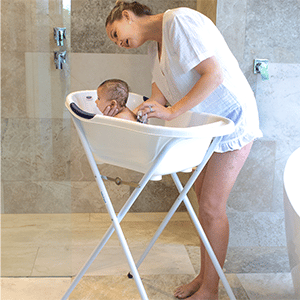 Ergo Grouper Bath & Stand

We think it's wonderful and practical bath for my daughters new baby. The other bath we had was very impractical, hence buying your product. Your service was pretty efficient and quick. Thank you for your efficiency. – Via Bubs N Grubs
Ceangelico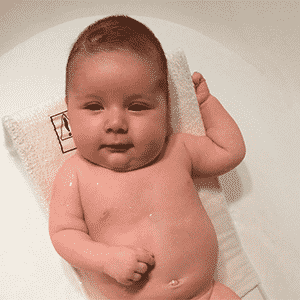 Toweling Bath Support

We came too late to the party on this, using our slippery, stupid, panicked, in- competent hands for weeks before I bought this funny little tezzo towel ramp for sonny to lay on and own bath time like the boss he is. Made bath time a lot easier and a lot less scary… – Via Zotheysay Blog
Zoe Foster Blake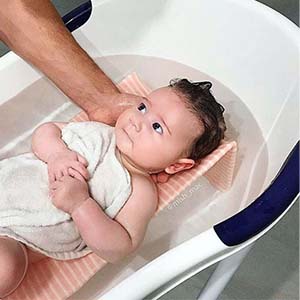 Toweling Bath Support

We bought the Babyhood Toweling Bath Support, as our daughter was growing out of her baby bath tub but cannot sit up on her own yet. We've tried just holding her in the big tub but both my husband and I have bad backs (and daughters getting heavier), so that was not a good option. We also found the plastic bath seat no good either (was harder to clean baby's back and bum area and daughter cried every time she was in it).
So we were very relieved to find that our daughter liked the Babyhood Toweling Bath Support. She is very relaxed in it and now enjoys her bath time. The design of the seat is good in that her legs are free to move in any direction. We still have one hand under her head (more to guide and prevent her moving too much) but her weight is on the bath support which means we don't have to lift her constantly (great for our backs). I definitely recommend it 🙂 Very useful. Good price, baby enjoys it as fabric comfortable to seat on, baby's legs free to move in any direction. – Via Product Review
(image not provided so babyhood image inserted)
Tulipgirl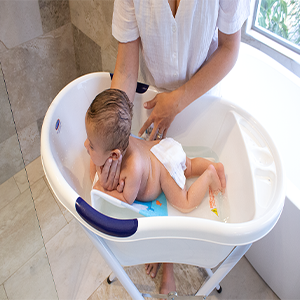 Toweling Bath Support

This is one of the best inventions. We use it every time my daughter has a bath. She loves it!! 💕
@lainiegood1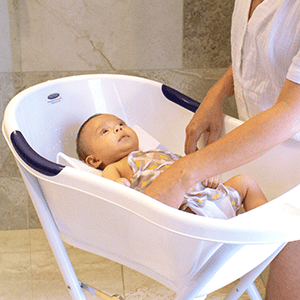 Toweling Bath Support

I bought one of these when we were expecting our first the baby, as I liked the idea of being able to lay baby on it and enabling me to be hands free to wash baby without being uncoordinated trying to hold a squirmy, wet, slippery baby.
This turned out to be my most favourite baby item and the best value for money. It only cost around $20 but it was such a great buy. Fits in most baby baths and normal tubs and doesn't slip around in the bath.
I recommend this to all new parents, you really appreciate it when your using it. It made bathing a new baby so much easier and you can use for quite a few months until they obviously get too big for it. I used it for both my children so i well and truly got my $20 worth out of it. 😍 – Via Product Reviews
Shanemmy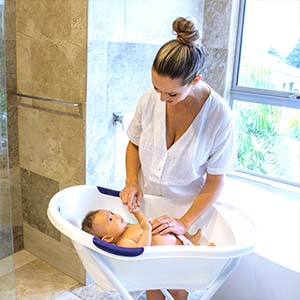 Toweling Bath Support
My mother owned a similar toweling bath support almost 40 years ago which was used and handed down through the family over the next 20 years. When it came around to my turn for children. These were recommended to me as an essential item. Newborn babies are slippery and this gave me the confidence to bath my child without fear. I've found the full molded plastic bath supports do not stand up to the superior quality of the Babyhood Toweling Support and cannot be used for newborns. Tough, Inexpensive, reliable, Non slip, easy to store. -Via Product Review
catwoman1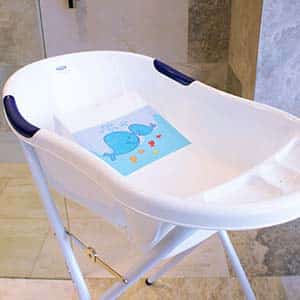 Toweling Bath Support
This should be the first item on your checklist for your baby… Can be used inside a baby bath, a laundry sink, a bathtub or even placed in the shower. My baby lives it and I would not travel without it! Excellent size, lightweight, Terry toweling, can't go wrong! I used it from when he was a newborn and still use it (now 6months), ESP in the shower. Easy to clean and to remove. Excellent product. -Via Product Review.
(image not provided so babyhood image inserted)
AGD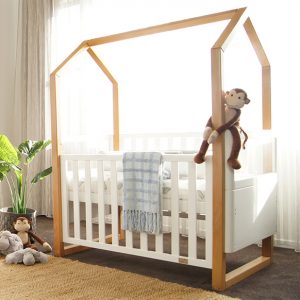 babyhood

babyhood products are funky and well made and their customer service is above and beyond. They went out of their way to help me when I had an issue with one of their products that I purchased from another supplier and were so friendly and helpful through it all. (via Google Reviews)
Kate Green
Note
All products are covered by a specific warranty. Please refer to your product instruction manual for details of the warranty relating to the product. Alternatively please contact us at sales@babyhood.com.au for more information.
We do not recommend this product as a sleep surface for your baby. Do not leave your baby unattended.