Description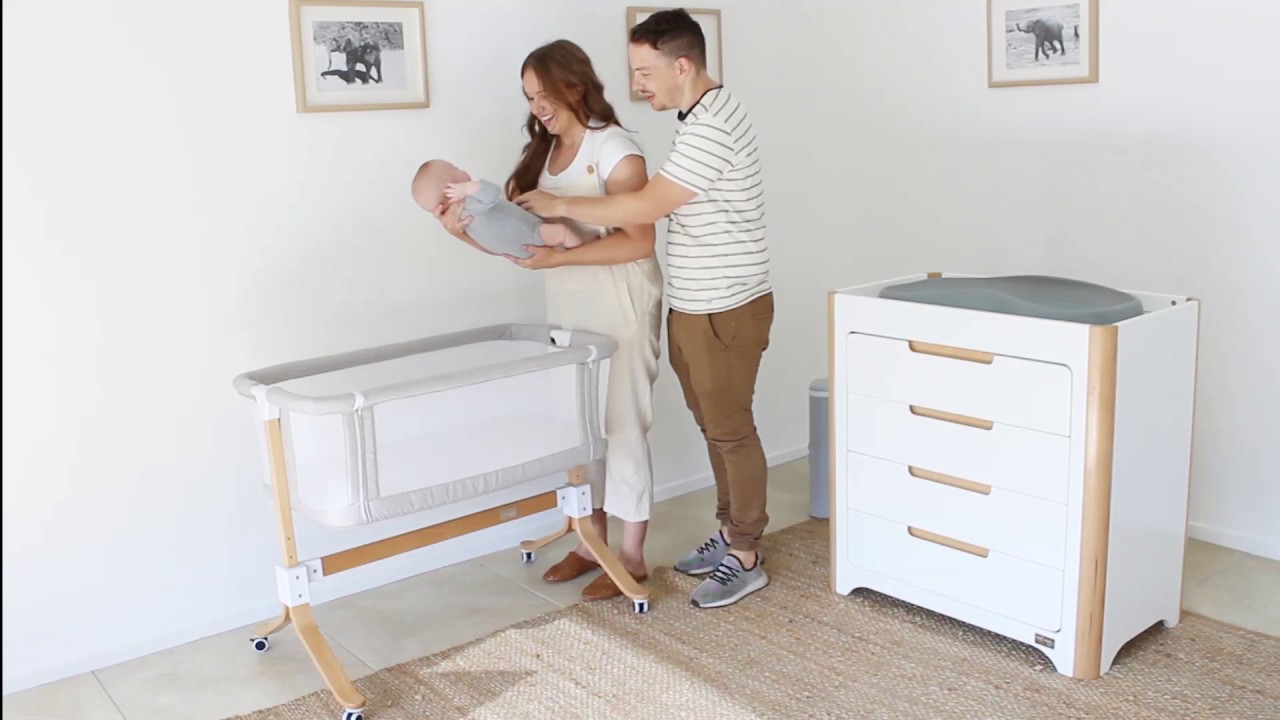 The Ultimate Change Pad is a luxuriously comfy change pad for your bub at home or on the go.
It is different to the other pads on the market as:
1. It has high rise sides to help contain your little wriggler and it is flat, so it does not cause the poo explosions from running off the mat and onto your furniture and carpet.
2. It is also more hygienic, as it smooth with no textured surface to trap your baby's mess (which would be impossible to clean!).
3. It is soft and comfy, not a hard plastic that requires additionally padding.
4. There are no ties or belts so no strangulation hazards for your baby.
5. The Change Pad is flat with no incline, so it is safer for your newborn.
6. It is healthier with no hidden nasties. Low VOC (Volatile Organic Compounds), no latex and no fire retardant chemicals
It can be used on any firm, flat and dry surface, including change tables, chests of drawers, on the floor and in the back of the car. It is perfect for as your baby grows, as it can be positioned on the floor, so you are not lifting your baby up to a higher surface, so better for your back. Always ensure you are at your baby's side, during use.
It is waterproof can be easily wiped clean with a non-alcoholic baby wipe or warm water, so your baby's changing space is always hygienically clean. It also saves you extra time in the laundry, as there is no need for change mat covers.
The Ultimate Change Pad is safe for your baby manufactured using high density PU Foam, and is BPA, Phthalates and PVC free and most importantly tested to EN 71 Regulatory Standard (Infant Product Safety Test).
Safer
With extra high curved sides to ensure your baby is secure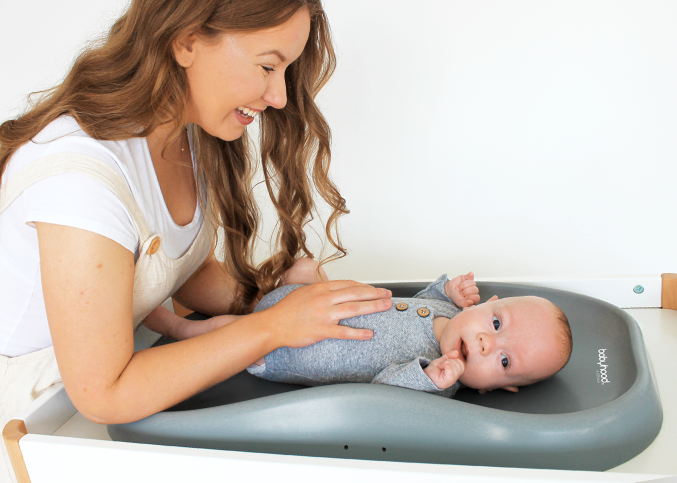 Healthier
BPA, Phthalates and PVC free
Low VOC (Volatile Organic Compounds)
No latex
No fire retardant chemicals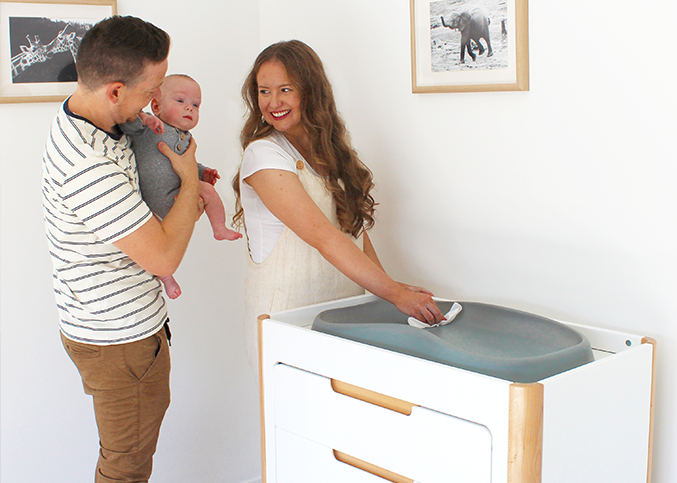 Hygienic
Wipeable with warm water
Easier for You
No extra laundry
Versatile
Can be used on the floor or any flat safe surface
Features
• High sides for extra support
• Luxurious soft and comfy for bub
• Waterproof so keeps your surfaces clean
• Hygienic as it is easy to clean with a non-alcoholic baby wipe or warm water
• For use on firm, flat and dry surface
• No ties or strangulation hazards
• Lays flat
• PVC free
• BPA free
• Tested to EN 71 – Infant Product Safety Test

Tested to EN 71 – Infant Product Safety Test.
Tested to ASTM F2388-21.
Assembled Dimension
W43 x L73 x H9cm
Carton 1
W44 x L74 x H10cm
Age Range
Newborn to 24kg
Standards Testing
EN 71 – Infant Product Safety Test & ASTM F2388-21
How to Use
We recommend the Change Pad be placed on a minimum support surface of 483 mm x 762 mm. The support surface must be flat, stable, structurally sound and if off the ground, preferably have an edge or a lip. Do not leave your child unattended and ensure all your changing needs are within your arm's reach of your baby.
Important Information
This Change Pad is manufactured using a unique process of liquid foam, which makes them more comfortable and softer for your baby. Unlike other pads, we do not use any toxic chemicals to seal the pad, as it is unsafe for your baby and dangerous to the environment. We also do not emboss the top of the pad with patterns, as that is hard to keep clean. As a result, you may see a variation of colour in the pad (swirls, lines and dots of a darker shade) as the pad is not one solid colour. These are natural imperfections and the result of the moulding process, as we do not use any toxic chemicals in production.

Whilst the top of the pad is smooth, the underside of the pad is not intended to be smooth and will have air bubbles and other imperfections.

Each side of the change pad has 2 perforations for drying, as per the pictures above.

These are not stains or mould growth. These are not manufacturing faults.

Whilst we do our best to create beautiful products for you, safety is always paramount, so we thank you for your understanding and supporting our business to create safer products for your baby.

Product Care & Warranty
This is our first product to be packaged with no plastic, as we are doing our part to try and minimise our environmental impact on the earth. The product may accumulate a little dust in transit however like all baby products, it is best to wash before use.

Prior to using the pad, please clean the pad with warm water and soft sponge. Do not use bleach or abrasive cleaners.

Do not use sharp objects near the pad.

The pad may change colour if placed in sunlight. Polyurethane foam can interact with the paint or lacquer of the surface on which it's placed. This interaction is most commonly seen with white paints and clear varnishes, which may yellow. Please note that by using this product, you are acknowledging the possibility that this discoloration could occur. This can be rectified in most instances by removing the pad and exposing the paint or lacquer surface to sunlight. For more information, please refer to our FAQs – Click Here

6 Month Manufacturing Fault Warranty.

Ultimate Change Pad

'With our third baby we really wanted convenient and compact products. This has been a great change mat. It's portable so I can use it any where in the house. It's slim and light. We love that it's waterproof so it's easy to clean and I often put a sheepskin over it and place it on the floor for a safe place to entertain (or simply get something done when you need two hands)'.- Via GlobalbabyNZ
Narae Y

Ultimate Change Pad

Lovely mat, super easy to wipe clean and convenient! Cost effective and love that we don't have to spend more money and time buying and washing change mat covers.
Sits great on top of our drawers and saves space by avoiding a devoted changing table which simply wouldn't work in our little room. Via GlobalbabyNZ
Megan A.

Ultimate Change Pad

This changing mat is the most well designed product we have bought for our baby. Our changing table came with a conventional changing mat, but the first time we used it our baby projectile pooped over the soft white surface and stained it. The Babyhood changing mat is so easy to wipe clean, and is comfortable and safe for our wriggly little newborn. Via GlobalbabyNZ
Betty M.

Ultimate Change Pad

Perfect as a spare change pad, we have 2 under 2 and didn't want to have to purchase another change table and set of drawers so this was the perfect alternative. Via GlobalbabyNZ
Gemma A.

Ultimate Change Pad

Babyhood Ultimate change pad is the perfect size mat, feels awesome and easy to clean, stylish and came super quick! Exactly what we were looking for!  Via Temple & Webster
Alana Spitalnic

Ultimate Change Pad

Soft, comfortable and portable and most importantly super easy to wipe down and clean!. Temple & Webster
Talia Bilgola

Ultimate Change Pad

Love this product it is super soft and easy to clean and I love that it has edges the whole way around Via Temple & Webster
Georgia Nicholls
Note
All products are covered by a specific warranty. Please refer to your product instruction manual for details of the warranty relating to the product. Alternatively, please contact us at sales@babyhood.com.au for more information.
We do not recommend this product as a sleep surface for your baby. Do not leave your baby unattended.