Description
Safer for Sleeping
With a fully fitted elasticised edge to ensure a snug fit to the mattress so it won't move while your baby sleeps.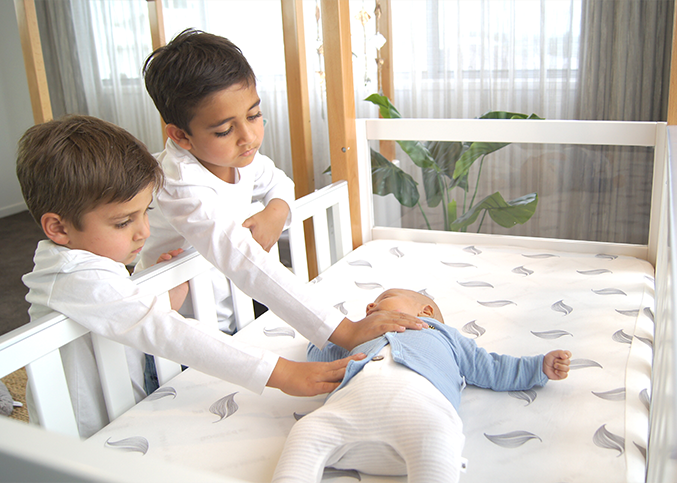 Breath Baby, Breathe
The organic cotton fabric provides your baby with a secure, safe and breathable environment to sleep.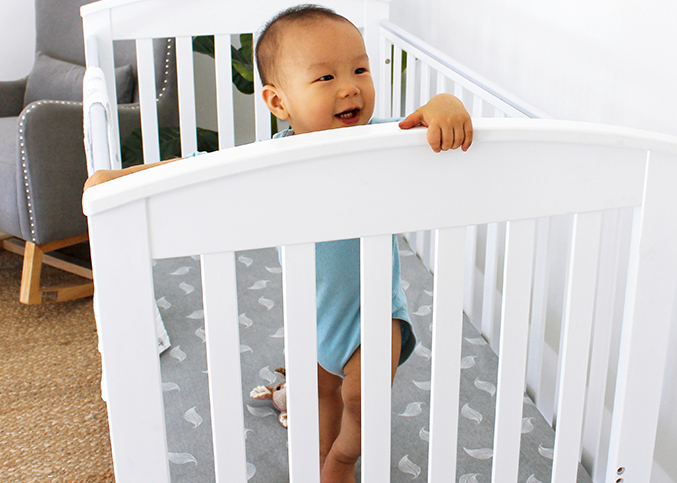 Luxurious Soft Touch
Unlike other cotton sheets, we make them softer so they are comfortable and safe for your baby's delicate skin
Durable
Made of high-quality organic jersey cotton it will last for unlimited nights of sleep
Beautifully Design
With beautifully designed patterns for you to choose so, you can create your dream nursery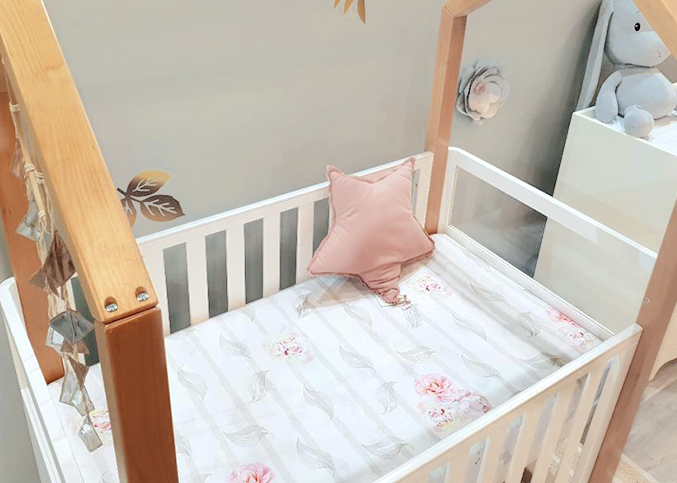 Convenient For You
No need to hand wash as our high-quality sheets can be machine washed in a delicate cold wash using a delicates bag.

Your baby is the most precious little human in your life. Naturally, you want to do everything you can to ensure that they have the best in life. You may have already switched to organic food to guarantee they are healthy on the inside so why not ensure what you wrap them in is safe too? We have compared why it is best to choose organic products for your baby.
The big difference between organic and conventional cotton is the way the product is produced, and the amount of toxic chemicals used in the process. This is how organic cotton is produced:
• It is harvested delicately with the use of natural cotton seeds.
• The soil used is chemical free.
• Farmers only use rainwater to grow the crop.
• No chemicals or pesticides are sprayed at any stage of the process.
• The cotton balls are handpicked and never bleached or dyed with the use of toxic chemicals.
• If dyes are used, they are usually plant based, nontoxic dyes.

It lasts longer
This is because organic cotton's resilient fibres have not been damaged by chemicals during the growing and weaving process.
It's Free from Toxic Chemicals
So you can rest easy, knowing your child is not inhaling anything toxic.
It's Softer and More Comfortable
Maximising your baby's comfort and ensuring they stay cosy and itch-free.
It's Better for Your Baby's Skin
As organic cotton always keeps its natural state, it makes it mould resistant and antimicrobial too, so there is less of a chance of your child developing skin conditions such as eczema, dermatitis and skin allergies.
It's Better for The Environment
No chemicals are used, and farmers recycle rainwater so water from conservations isn't wasted.
It's Better for Farmers
The farmers aren't exposed to any harmful chemicals and don't inhale any pesticides and insecticides. They also aren't forced into debt from purchasing expensive GMO seeds.

How do we know our textiles are Organic Cotton?
We use certified textiles by the Global Organic Textile Standard (GOTS), which is the worldwide leading textile processing standard for organic fibres, including ecological and social criteria, backed up by independent certification of the entire textile supply chain.
To obtain the GOTS "organic" label, a product must:
• Contain at least 95% organic fiber
• Not be treated with bleach, formaldehyde or any other toxic substances
• Be colored with nontoxic dyes
• Be produced in a mill that enforces strict social and environmental standards, treating their employees and the earth with deep respect.
• GOTS certification means that our products meet the very highest standards.
Features
• GOTS Certified Organic Jersey Cotton
• Fully fitted sheet with a quality elasticised edge for a snug fit on your mattress
• No wrinkles so it always looks perfect in your cot
• Breathable textile so you know your baby is safe while sleeping
• Beautifully soft to touch luxurious textile
• Durable fabric
• Beautifully designed to help you create your dream nursery
• Machine washable in a cold gentle wash
• Available in Tic Tac Toe, White with Grey Leaf, Grey with White Leaf and Vintage Floral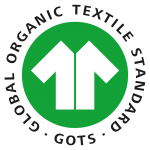 We use organic textiles certified by the Global Organic Textile Standard
Mattress Fitting Size
W80cm x L132cm x H14cm
Packaged Dimensions
W19cm x L21cm x H7cm
Fabric Type
GOTS Certified Organic Jersey Cotton
Sheet Type
Fully fitted rectangular sheet
Product Care
Wash before use
Machine wash cold, gentle cycle, with like colours
Hot or warm water may shrink the cotton
Line dry flat in shade only
Do Not Bleach
Do Not Tumble Dry
Iron on lowest setting if needed
For further information see your product packaging.
Product Warranty
Click Here
Safe Sleeping Practices
When using a babyhood cot we recommend that you follow safe sleeping practices. Whilst we appreciate and respect a parent's right to make the right choices for their family, there are guidelines recommended by the medical experts for safer sleeping for your babies because we all want happy and healthy bubs.
These guidelines include: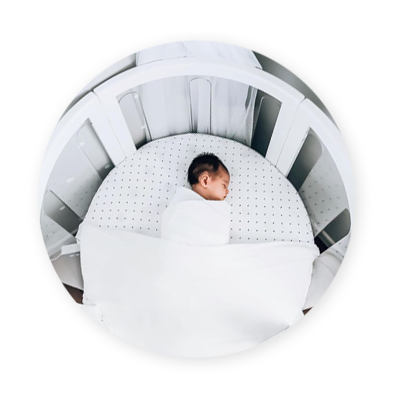 Always sleep baby on their back from birth, not on their tummy or side.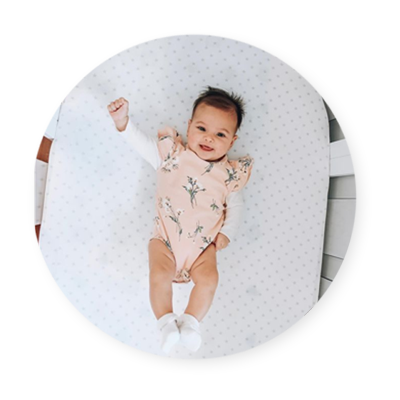 Make sure there are no loose objects or extra linen on your baby's cot.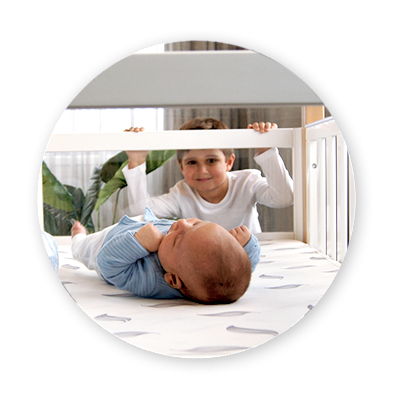 Make sure your baby's mattress is firm and clean.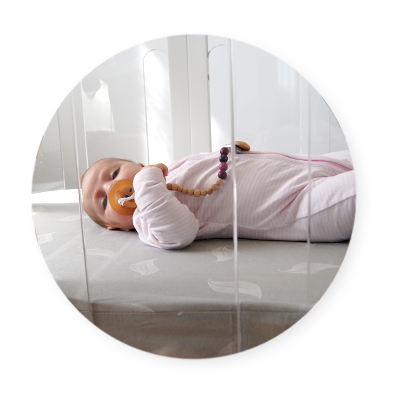 Lay your baby on a flat and uninclined surface.
If you have questions about how to use our products please call us or email us, we are always happy to guide you to create a safe environment for your baby using our products.

Breathe Eze Cosy Crib

We love this little bed by babyhood it is easy to move from my office to the coaching floor and Lex loves kicking about on it. I'm actually kinda jelly that I don't fit in it because I'd totes use it.
@reviejane

Breathe Eze Cosy Crib

He loved his babyhood bed when he first slept in it at 2 wks and still loves it to this day at 18 weeks.
Jackson_2016

Breathe Eze Cosy Crib

Seriously the best thing for baby. We use it every day. Have been recommending it to everyone.
koa.and.ohana

babyhood
Great customer service and amazing quality products. We are very happy and recommend other parents to go there. From Helen & Charles via Google Reviews
Helen Modong

Kaylula Cot
They make the most beautiful products – quality that will last! We absolutely adore our Kaylula cot, it has served us well for our daughter and is ready to be used again for our second baby! I cannot recommend highly enough! via Google Reviews
Rochelle Currie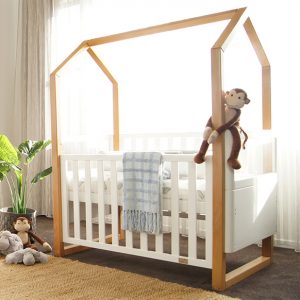 babyhood

babyhood products are funky and well made and their customer service is above and beyond. They went out of their way to help me when I had an issue with one of their products that I purchased from another supplier and were so friendly and helpful through it all. (via Google Reviews)
Kate Green

babyhood Cot
Love this cot and it is great quality with so many possibilities to grow with my daughter! Looks so perfect in her nursery 😍 via Google Reviews
Aimee Cuneo

babyhood
"Wow just wow. Went and picked up my order directly from babyhood the help was amazing – I will return and share with all my mummy friends". via Google Reviews
Jamie Fleekson

Co Sleeper Cradle
"Bought co sleeper cradle online – selected pick up in store and was ready to pick up and was ready the same day" via Google Reviews
Angus Fisher

Kaylula Collection
"Thank you for all your help guys very much appreciated. Love my Kaylula collection all your products are so unique" via Google Reviews
Jeffrey Tennyson

Riya Cot
"It's simple yet stylish design is perfect for his little space. This is the second babyhood cot I've used, and I can't find a fault." via Instagram
Mel Watts

Kaylula Sova Cot
"Fell in love as soon as I saw this cot because of its unique shape and design. My fav part is the clear panels which allow me to have a clear view of him from every angle lolol" via Instagram
@naomineo_

Kaylula Sova Cot
"Love this cot and your gorgeous bassinet @babyhood_australia" via Instagram
@littleturtlebaby

Kaylula Sova Cot
"The mattress was so important for me. It's breathable, washable and it's a thicker mattress with extra support and safety for Fox. It's also tested by Furntech – AFRDI to meet the highest Australian Standards so I'm confident I have the safest cot for my babe" via Instagram
@zoebmarshall

Kaylula Sova Cot
"Super trendy and something I usually wouldn't have the confidence to go for. It starts as a circle bassinet and grows as the baby grows into an oval cot (Yes Fox is already in this size – he is a big boy!) and then it turns into a toddler bed and eventually a little table and chairs set" via Instagram
@zoebmarshall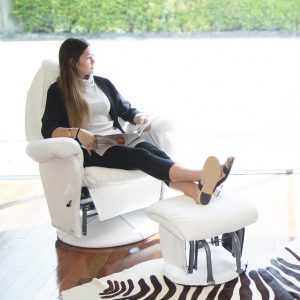 Vogue Feeding Glider Chair
"It's white, plush, so comfortable it has lumbar support – it's unbelievable how sore your back and neck gets from nursing. It's stain and scratch resistant so it stays pretty too. It also reclines and the biggest thing it doesn't rock, it glides, making it a perfect soothing chair when Fox is unsettled." via Instagram
@zoebmarshall

Ava Forever High Chair
"Still loving our high chair from @babyhood_australia" via Instagram
@yvettevargas

Riya Cot
"Went for the Riya because of the adjustable mattress and because it transitions to a toddler bed" via Instagram
@miss.goodytwoshoes

Organic Nursing Pillow
"Elle loves sitting up and watching us in my breastfeeding pillow from @babyhood_australia" via Instagram
@mikhailla

Kaylula Sova Cot
"She loves hanging out in her cot @babyhood_australia chatting away and giggling to her mobile." via Instagram
@danibonnor