Description
A world first, the Kaylula Sova Clear Cot by babyhood is a revolution in cot design and concept. Revolutionary, with its unique clear panels which allow your baby to wake free as a bird each morning and see straight out into the world ahead.
Versatile, as the cot evolves – so you have a lifetime of use as the cot grows with your little one from babyhood to adulthood. Starting from a Bassinet + Cot + Toddler Bed + Adult Table and Chairs Set+Playpen, all included.
Safe, as it is tested to the toughest Australian Standards by Furntech, which is renowned as one of the best independent testing facilities in Australia.
Quality, using the highest grade European beechwood timber. Now you and your baby can enjoy the ultimate nursery with the Kaylula Sova Collection by babyhood.
World First
The first and only clear oval cot in the world.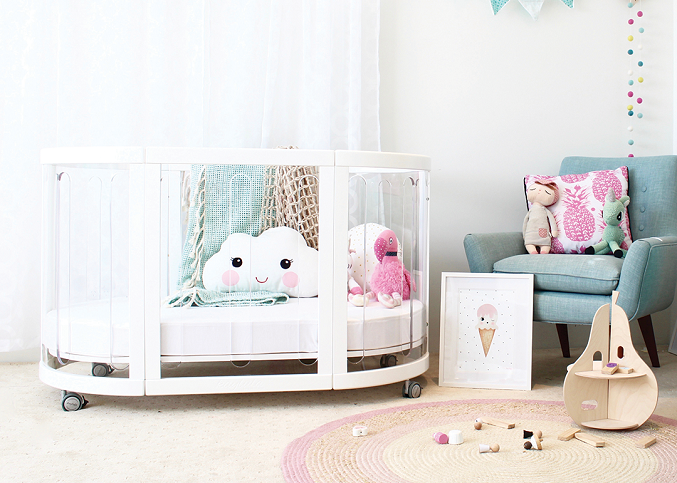 Award Winning
Recognised for innovation internationally.
Revolutionary
Unique clear panels that allow your baby to wake free as a bird each morning and see straight out into the world ahead.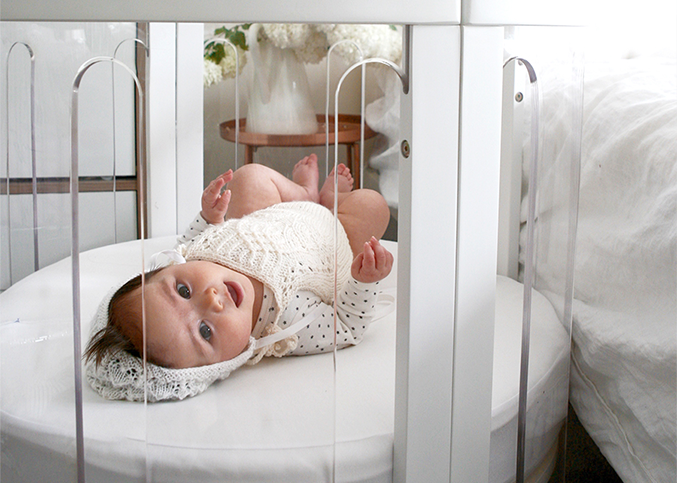 Non-Toxic
Safer for your baby with no toxic chemicals and low VOC.
Versatile
The Sova Cot evolves – so you have a lifetime of use as the cot grows with your little one from babyhood to adulthood. Starting from a Bassinet then a Cot, then a Toddler Bed and then a Playpen, and then an Adult Table and Chairs set – perfect for starting school.

Next to You
Wheels around your home through standard doorways so it is super easy to keep your baby by your side, wherever you are.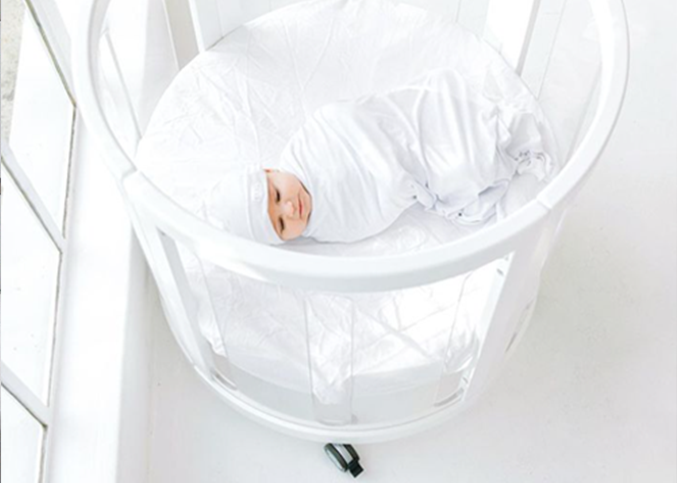 Safer for Your Baby
Tested in the most well-respected test facility in the world – so you know it is safe.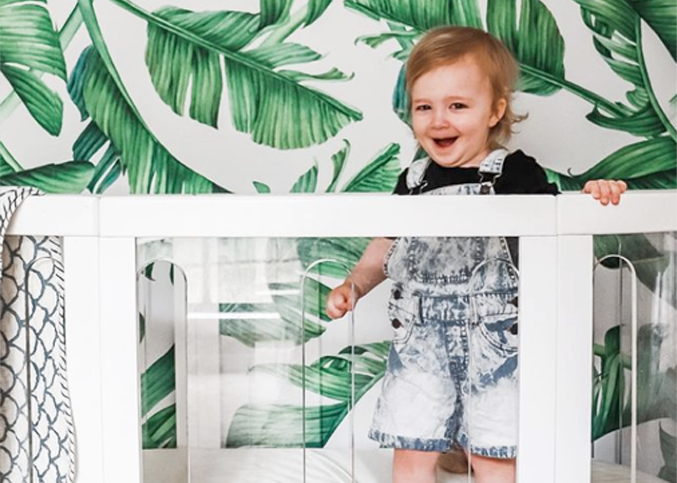 Back to Nature with Real Timber
Masterfully created with solid European beechwood so it will last generations to come
Sustainable for Our Earth
Made with timber that is grown sustainably in plantations so we do not deplete the natural ecosystems and care for the earth that our children will one day inherit.
Features
• Better for you and your baby as it is sustainable with European Beech wood
• A modern style for a trendsetting family
• Stylish for your baby boy or girl's nursery as it very gender neutral
• Grows with your child as the base levels adjust from bassinet, cot and toddler bed
• Easy to manoeuvre around your nursery with 4x lockable wheel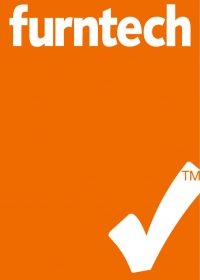 Tested by the highly regarded NATA accredited testing facility AFRDI (Australian Furnishing Research and Development Institute)
Tested to AS/NZS 2172:2003 and complies with AS/NZS 2172:2010 Australian Standard for Domestic use Cots

Assembled Dimension
Cot – W76 x L130 x H82cm (including castors)
Bassinet – W76 x H82cm (including castors)
Carton 1
W57 x L79 x H42cm
Carton 2
W61 x L79 x H21cm
Recommended Mattress Size
1250mm x 700mm x 100mm
Age Range
Bassinet Level – New born to earlier of 6 months or when baby can sit up unassisted
Cot/Toddler Level – up to 24kg as tested in accordance with the Australian Standard.
Standards Testing
AS/NZS 2172:2003 Australian Standard for Domestic use Cots
Assembly Instructions
Watch video – Click here
If you have lost your assembly instructions, please contact us – Click Here and send us the following details:
1. A photograph of your cot
2. A photograph of the base markings which show the manufacture date and batch number of your cot (found on the wooden slats where the mattress sits).
Product Care & Warranty
Click Here
Please note that whilst the Australian Standard tests up to 24kg (impact testing) our cot bases will hold a static load of up to a maximum of 100kg (based on internal testing 2021).
Safe Sleeping Practices
When using a babyhood cot we recommend that you follow safe sleeping practices. Whilst we appreciate and respect a parent's right to make the right choices for their family, there are guidelines recommended by the medical experts for safer sleeping for your babies because we all want happy and healthy bubs.
These guidelines include: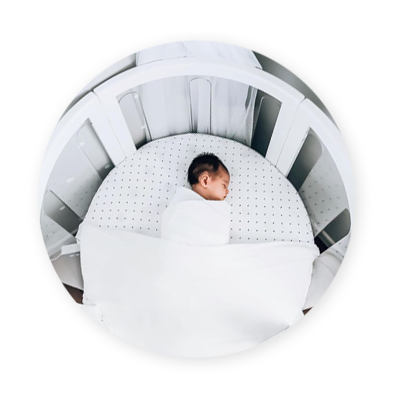 Always sleep baby on their back from birth, not on their tummy or side.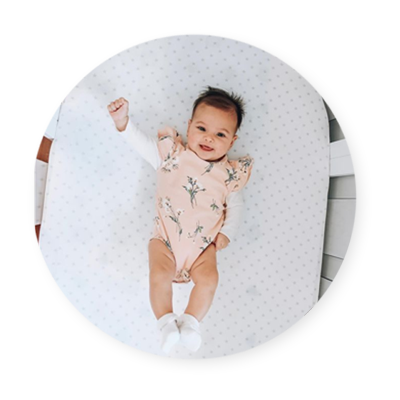 Make sure there are no loose objects or extra linen on your baby's cot.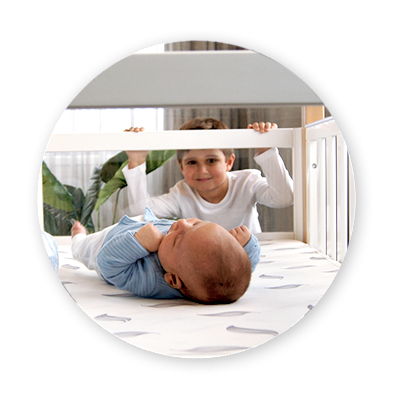 Make sure your baby's mattress is firm and clean.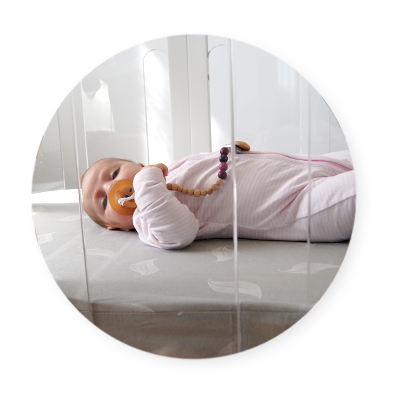 Lay your baby on a flat and uninclined surface.
If you have questions about how to use our products please call us or email us, we are always happy to guide you to create a safe environment for your baby using our products.

Kaylula Sova Cot Clear
"Fell in love as soon as I saw this cot because of its unique shape and design. My fav part is the clear panels which allow me to have a clear view of him from every angle lolol" via Instagram
@naomineo_

Kaylula Sova Cot Clear
We literally get SO MANY compliments about our amazing @babyhood_australia Kaylula Sova cot, and honestly I can't imagine life without it! It has see through panels (which I love), it will grow with her AND it has wheels. I can wheel her from our room to the lounge and to the study, while mama is doing work! I caught her bopping to @coldplay while I was banging out some emails. It seems taking her to their concert at 8 months in utero gave her a love for their tunes, what can I say – the girl has great taste!
@rochellecurrie_

Kaylula Sova Cot Clear
I wanted to get another baby cot at first but @yourfreckledgirl recommended this instead and we have no regrets ✌🏼✌🏼 I love the clear sides so we can easily see what she's up to even if we are lying down on our bed. @mothercaresg @babyhood.sg
@Omfgwen

Kaylula Sova Cot Clear
This little angel melts our heart! I love being able to see Mila through this cot! The #kaylula_cot is on wheels and also turns into a bed and desk with chairs – cot, bumper and room inspo all from @bespokebabies_southafrica
@jadedaniel__

Kaylula Sova Cot Clear
Little Cruz's Bedroom – always love the tones in here! 🙌🏼 He loves sprawling out in his cot at night! 🙈 but I love how everything is so special in this room – from gifts from friends, hand me downs from Elle, a painting elle & cruz made with their feet, gifts from brands who supported my business as clients in the early days and brands who have been on a long journey with me. Everything has 'meaning'. I'm all for meaning when I can look at something and know who gave it, what it means or where it's from then it is something I hold onto life long ❤️
cot @babyhood_australia
@mikhailla

Kaylula Sova Cot Clear
All the pretty's for the sweetest baby girl. This kaylula cot from @babyhood_australia was a no brainer for me. Clear sides for us to see in and for baby to see out when she awakens. This is in the bassinet stage with sides and additional mattress a part of the package to make a full size cot ✨
@the_still_house

Kaylula Sova Cot Clear
We adore this cot it is really beautiful to look at aswell as very great quality. I love the fact you can see through it so I could keep an eye on my newborn at all times. I have had my cot for 3 years and we have had no issues at all. It is expensive but I would say it's worth every cent. Quality is next to none.
via Tellmebaby Reviews
zena khuder

Kaylula Sova Cot Clear
This is the most awesome cot I have ever owned due to it's convenience because it can be a bassinet cot and a bed. It's expensive but it's 3 in 1 so it's definitely worth it and I will be definitely recommending this product to anyone with a new born baby. I'm so obsessed with it.via Tellmebaby Reviews
(image not provided so babyhood image inserted)
Tahnika Sorrell

Kaylula Sova Cot Clear
Best purchase I've made
How old does Zyla look now? 😂🤭
Always receive questions and compliments on Rey's cot. Been a huge fan of the Baby Kaylula Sova cot from Babyhood since I first set my eyes on it @mothercaresg back when I was pregnant with Ky. Apart from its beautiful and unconventional design, I especially love the transparent panels because it allows me to have a clear view of Rey from every angle – she's also able to enjoy her surroundings from the moment she's awake. The best part? It grows with your child and can be converted into a playpen + table/chairs in the future – never goes to waste 😌 Best decision I've ever made!
@naomineo_
Note
Please note mattresses are not included with any cot purchase unless otherwise specified.
All products are covered by a specific warranty. Please refer to your product instruction manual for details of the warranty relating to the product. Alternatively please contact us at sales@babyhood.com.au for more information.
Timber is a natural product; that is part of its beauty, so a colour variation, knots in the timber and grain pattern are both natural and to be expected. We do not colour match timber during fabrication as the waste from such practices would be environmentally irresponsible, so you will see some variations in your products. We believe this is what makes our timber products naturally beautiful. These variations are unavoidable as timber is seasonal and will vary between seasons, including the way in which the paint appears on different surfaces. These variations will not be considered manufacturing faults or defects under our warranty.
Properties of Acrylic
Acrylic glass is an engineered product. During manufacture, it is not unusual for small bubbles and/or slight variations in colour and clarity to form. These are the natural properties of the creation of this material. You may see slight changes in clarity within the acrylic glass. This is not a fault in the product. This is the nature of the product. If exposed to sunlight over time acrylic glass may change in colour and/or cause crazing or small cracks, so we recommend that you do not leave this product near a window or doorway or anywhere the cot is regularly exposed to the sun.
If any scratches appear on the acrylic glass then we recommend that you clean the acrylic glass with a product called 'Mothers California Gold Scratch Remover'. Please follow the instructions on the packaging of this product including using a clean microfibre cloth. Do not over rub or use anything abrasive, cloth or cleaner on the acrylic glass as it will scratch the product further.