Travelling Tips from a Frequent Flyer Mum

I'm always on the go.
I travel for work and for play and as a mum of three kids I have learned many little tips to save my sanity when travelling with bubs.
First of all, things go wrong that are not in your control so pack lots of patience and remember to not sweat the small stuff.
Over the years I have experienced almost all of it from delayed long haul flights in Africa, stuck onboard hot and smelly planes stranded for hours on military bases, lost suitcases after 24 hours of travelling in Malaysia, children vomiting at theme parks, diarrhea messed all over my lap in the back of a cab in Dubai, lost toddlers at an Asian beach resort, filthy public toilets at the zoo and a lost baby shoe on the Singapore flyer!
So here are my tips for smoother sailing . . .
Plan ahead.
Traveling with children requires a little more thought and extra time out sessions scheduled in your itinerary.
As light as they seem, holding a baby through an entire flight, especially a long haul flight is exhausting. Most airlines offer you an infant bassinet option for your flights – take it! It is very handy to keep your hands free while your baby sleeps. You may even find the time to read a book or watch a movie. You will however need to hold your bub on your lap secured with an infant seat belt, during take-off and landing. When taking off or landing, due to altitude changes, your bub's ears can cause them discomfort. I loved to breastfeed at this time, as the sucking motion helped my babies stay comfortable. A dummy may also work for your bub.
To ensure a clean sleep space, pack a cotton muslin or a bassinet fitted sheet to cover the mattress in the airline bassinet and dress your baby in an organic sleeping bag. Look for a sleeping bag with at least a 2 tog rating and ensure it has a zip on the bottom so you can easily access baby for nappy changes, without opening their chest area.
Always remember safe sleeping guidelines, as accidents happen even drifting through the clouds.
If possible, book an aisle seat so you are able to easily access the bathrooms for the inevitable nappy changes. Don't forget your foldable nappy change mat for change time, as the toilet change tables are germ magnates. Most travel change mats, give you enough space for a nappy and wipes so only take what you need to the bathroom. This can also be used during the holidays on days out or by the pool.
Arrive early at the airport as most airlines offer parents with children priority boarding, so you can board early and organise yourself, before all the other passengers board.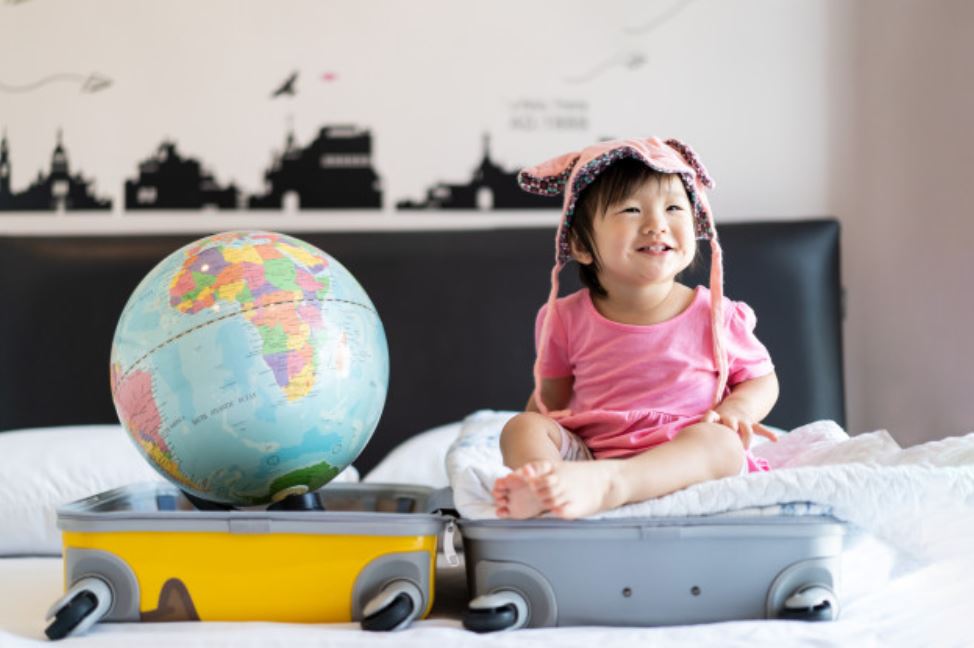 There are some great washable and stylish bags available so look out for these options when buying a carry-on bag.  Pack your carry-on bag carefully. A couple of spare onesies, a few extra nappies, scented rubbish bags for dirty nappies, a jumper and a beanie (as long haul flights are often cool), a muslin, a little toy blankie, a hand sanitiser, a sipper cup and lots of pure water baby wipes.
A little medicine kit is also important – something for pain and fever for babies, antiseptic for children, a menthol rub, a nose aspirator and some band aids. If travelling outside Australia, see your GP before you fly, just to make sure your baby is ready and no special immunisations are required.
Don't forget for you, some comfy travel clothes and shoes and an extra top as somehow we always end up with baby mess on us!
Finally ensure everything actually fits comfortably in your bag and it is not hard to access items – there is nothing worse than everything falling out as you are on the move.
For suitcase packing, pack smart for you and bub. You don't need a year's supply of nappies and ten different toy options. You can easily wash and wear as you go with bub's clothes and buy nappies on your trip, rather than carrying too much.
Onesies are great for travelling as they always look cute and you don't need lots of accessory pieces. Depending upon the weather, you may need a sun hat and a good quality non chemical sunscreen for bub – don't forget slip slop slap!
I love to pack my hard case suitcase with reusable clear bags with a zip. Every set of clothes has its own clear bag so when I reach my destination it is easy to access items without ending up with a messy bag.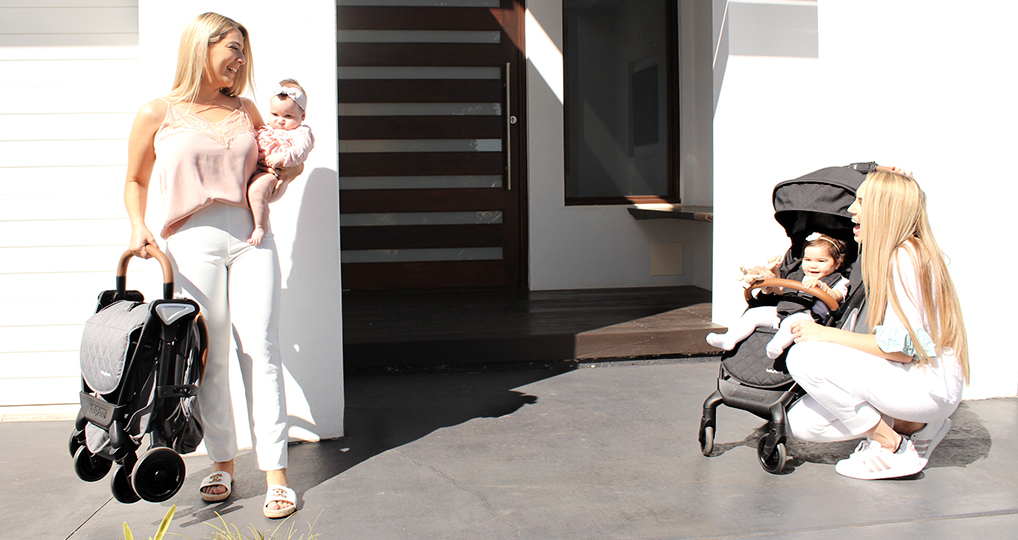 Leave the huge pram behind.
Instead pick up a compact travel option stroller that you can take straight on board and put overhead so it is ready to go when you land, again.  Look for an option that allows your child to lay back and take a nap, without having to buy extra bassinet options as it is just more to carry. Look for stroller that comes with a carry bag so it stays protected along the journey. Find a stroller that is easy to fold and open so no degree in rocket science needed, although that would be cool!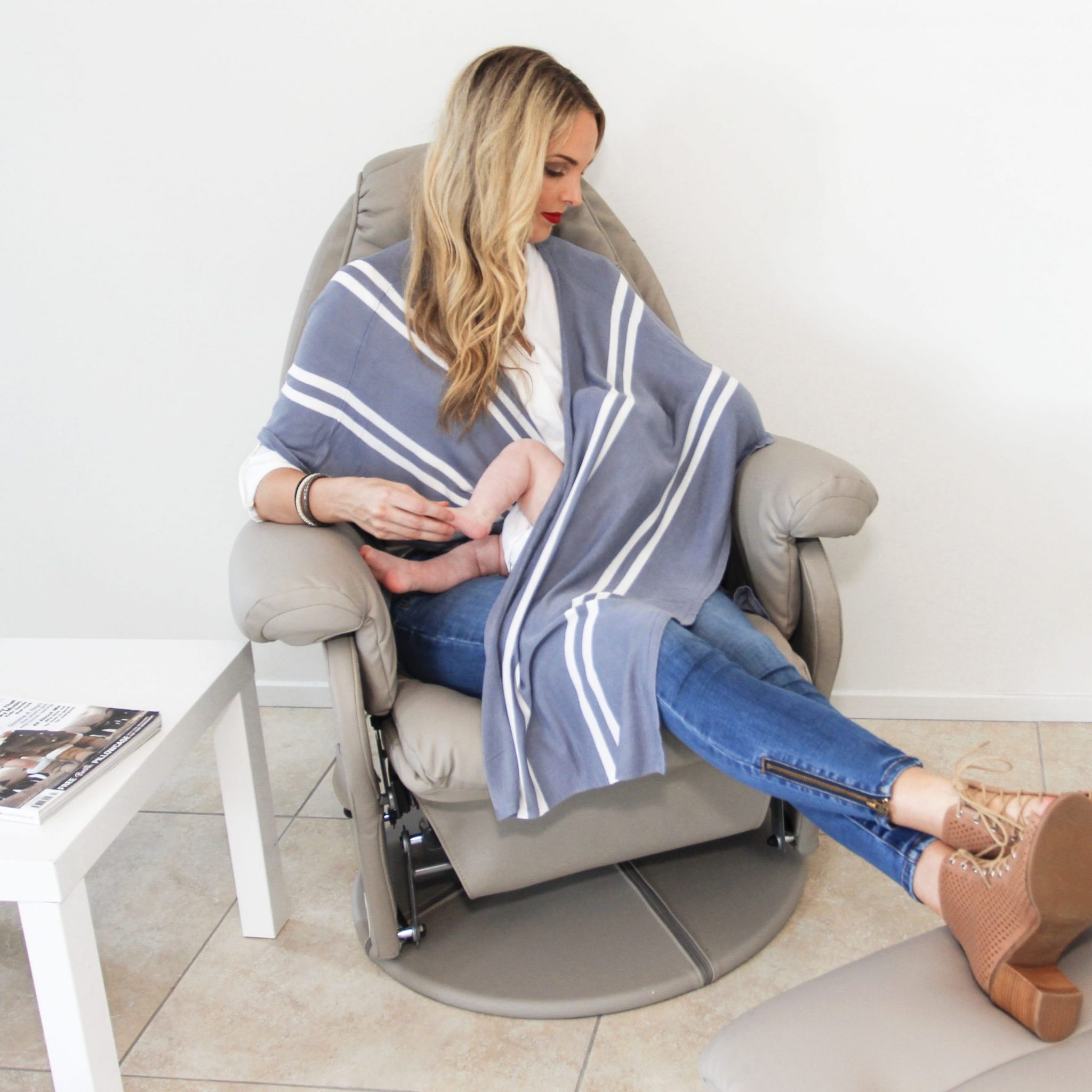 Breastfeed if possible, so you don't need to worry about extra bottles, sterilisers and formula. Milk on tap is often much easier for many mums and better for bub – where possible. If breastfeeding is not an option don't forget a few extra bottles and a dispenser pre filled with formula so it is easy just to tip out only what you need for each feed.
A multi-use breastfeeding wrap is very useful whilst travelling. Look for one that can double as a wrap for you, a swaddle for bub and a breastfeeding shawl on the plane. If you are breastfeeding don't forget to pack a few nursing bras and also a nursing camisole top for your summer holiday destination.
If your baby is enjoying solid foods, carry portion sizes for each meal of their favourite vegies and a couple of soft flexi spoons – in case you lose one. I love to carry a few snap lock bags and keep baby's spoons in a snap lock bag to stay clean.
If your bub likes a dummy, don't forget to take a few. Again pop the spares in snap lock bag to stay clean.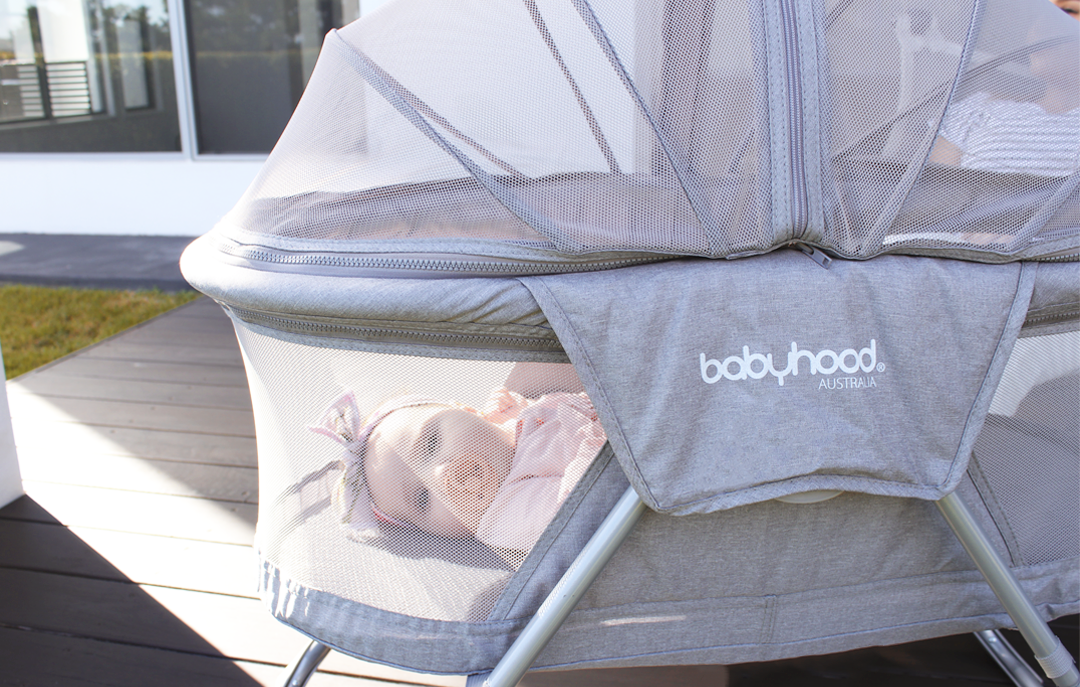 Before you leave, organise a safe sleeping environment for your bub at your holiday destination. Often parents find baby sleep options provided by hotels to be unsafe and very unhygienic so consider taking your own compact sleep space.
If you have a newborn, a breathable safe sleeping pod is always handy and hygienic for your bub. You can pack your extra nappies in the carry bag and most airlines will not include your baby's sleep space within your baggage allowance, making it more affordable and convenient for you to pack your own sleep space.  If you are travelling to a destination with mosquitos or insects pack a mesh travel bassinet. They are super compact and are safe for sleeping with a firm, breathable and washable mattress.

If your bub is 6 months plus, pack a lightweight portable cot. Look for options that are tested to Australian Standards, including the non-mandatory standards as there are many cheap porta cot options that are unsafe for your baby. Look for a firm and washable mattress and complete breathable zones. Check out what Zoe & Benji Marshall are using this holiday season with toddler Fox which opens and closes with one hand in just seconds!
My picks that definitely helped us during our travels from the babyhood collection . . .