Tips for Road Trips with Baby
With many of us unable to travel overseas for our annual holidays, frequent road trips with the family are a great way to get away and enjoy some quality time with our families.
I have learned many little tips to ensure that these getaways are fun for everyone, including me.
Plan ahead and stay road trip ready
Staying road trip ready means having the essentials for an easy weekend getaway. So stock up on the essentials and have them ready for a quick getaway.
A Safe Sleeping Space
Often parents find baby sleep options provided by hotels unsafe and very unhygienic so consider taking your own compact sleep space.
Your traveling sleeping space is as important as creating your sleep space for home – safety first always and then you need compact products that fold or pack away easily in the car – that are easy to clean and durable for the adventures ahead.
Luckily, we make it simple by designing lots of options with great features, especially for your convenience – without compromising on your child's safety.
For newborn bubs, we have a fantastic Travel Bassinet which folds away into a compact carry bag. It has a super cool canopy with an insect net to protect your baby from the bugs and a washable firm mattress so it is perfect for camping and the outdoors. For a small room in a hotel, we recommend the Breathe Eze Organic Cosy Crib. Not only is it washable but super safe for an overnight sleep for a newborn, when paired with a Breathe Eze Sleep Positioner. It can be placed anywhere there is a flat safe space for your baby.
For those who love a road trip, we have great porta cot options from newborn to toddler. The amazing one-hand fold UNO Porta Cot is one of its kind with a one-hand fold which is so easy to up and go when you are travelling and the firm, washable and breathable mattress is definitely a favourite feature with parents. We also have the award-winning Bambino Dormire Porta Cot which is great value for money.
For those who have a favourite holiday home that you visit regularly, a Fold N Go Timber Cot is amazing as it has all the features of your cot at home and it folds in seconds to be packed away for your return.
To ensure a clean sleep space, pack some cotton muslins and a couple of porta cot fitted sheets or bassinet fitted sheets. We have some great jersey cotton options that are very soft and comfy for bub and dry easily. Don't forget to pack a few sleeping bags to dress your baby at night. Look for a sleeping bag with at least a 2 tog rating and ensure it has a zip on the bottom so you can easily access baby for nappy changes, without opening their chest area.
A handy hint is to pack a couple of Luxurious Mattress Protector Sheets which will come in handy on your journey keeping your surfaces dry, from those spills and mishaps.
Always remember safe sleeping guidelines, as accidents happen even on great adventures.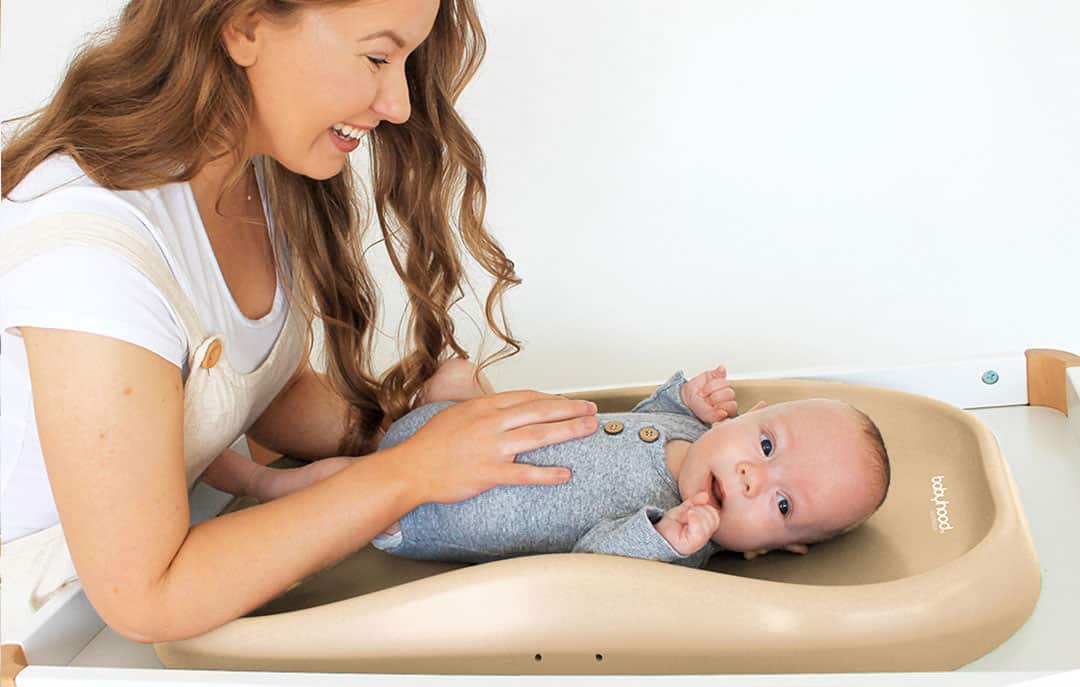 Nappy Change Time
Unfortunately, smelly nappies still need changing on holidays so always pack a mat for changing bub as you don't want accidents on your bedding – as washing is never easy on holiday (or any time really!).
An Ultimate Change Pad is great for travel as it can be placed on the ground or in the boot of the car for changing baby and keeping all the mess and bub contained on the mat. A foldable nappy change mat is also a good option if space is a premium.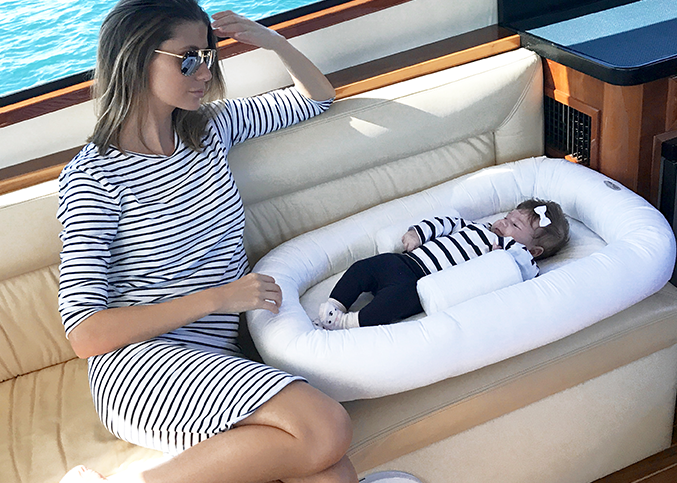 There are some great washable and stylish bags available so look out for these options when buying a travel bag for bub.  Pack your travel bag carefully. A couple of spare onesies, a few extra nappies, scented rubbish bags for dirty nappies, a jumper, a few muslins, a little toy blankie, a hand sanitiser, a sipper cup and lots of pure water baby wipes. Depending upon the weather, you may need a sun hat and a good quality non-chemical sunscreen for bub – don't forget slip slop slap!
A little medicine kit is also important – something for pain and fever for babies, antiseptic for children, a menthol rub, a nose aspirator, and some band-aids.
Don't forget some comfy travel clothes and shoes for you and an extra top as somehow, we always end up with baby dribble on us!
Leave the huge pram behind.
Instead, pick up a compact travel option stroller that you can pop in the boot or behind the passenger seat.  Look for an option that allows your child to lay back and take a nap, without having to buy extra childcare bassinet options as it is just more to carry. Look for a stroller that comes with a carry bag so it stays protected along the journey. Find a stroller that is easy to fold and open so no degree in rocket science needed, although that would be cool!
The Air Compact Stroller is a fabulous option with all the features you will need for your child's comfort and so easy for you to use. If space is a premium, then our super small BabyHood Air Mini Stroller is your best bet for travelling with bub.
Breastfeed if possible, so you don't need to worry about extra bottles, sterilisers and formula. Milk on tap is often much easier for many mums and better for bub – where possible. If breastfeeding is not an option don't forget a few extra bottles and a dispenser prefilled with formula so it is easy just to tip out only what you need for each feed.
Our Nursing Pillow with Toybar is a multi-purpose option that will be a place for bub to sit and play and also double as your nursing pillow so you can enjoy a relaxing holiday – without back pain. It is also machine washable so it can travel with you on all your adventures.
A multi-use breastfeeding wrap is very useful whilst travelling. Look for one that can double as a wrap for you, a swaddle for bub, and a breastfeeding shawl on the plane. If you are breastfeeding don't forget to pack a few nursing bras and also a nursing camisole top for your summer holiday destination.
If your baby is enjoying solid foods, carry portion sizes for each meal of their favourite veggies and a couple of soft flexi spoons – in case you lose one. I love to carry a few snap lock bags and keep baby's spoons in a snap lock bag to stay clean.
If your bub likes a dummy, don't forget to take a few. Again, pop the spares in snap-lock bag to stay clean.
This is our new world and whilst international travel is not an option, let's make the most of our beautiful country and see Australia. Road trips with bub can be fun adventures so take yours this weekend and don't forget to share your snaps with us on  Instagram and Facebook.